Domestic gold prices on May 23 suddenly jumped to 20.73 million per tael (1.2 ounces). This comes in the wake of news that the consumer price index (CPI) in the first five months of this year has increased by 11.59 percent compared with the same period last year, said the General Statistics Office.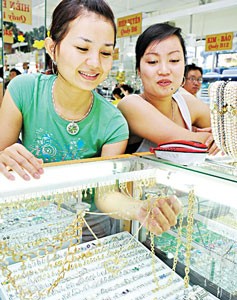 Domestic gold price set a record high on May 23, almost VND20.7 million per tael. (Photo: SGGP)
It is the first time domestic gold prices have increased so sharply in recent trading sessions, with gold rising by VND640,000 per tael within a week.
The buying price for a tael on May 23 was VND20.66 million (US$1161) and selling at VND20.73 million ($1165).
Many investors wonder whether domestic gold prices will soon reach VND21 million per tael.
After two months of uninterrupted increased gold prices, world prices on May 23 stood at $958.5 per ounce, up $3.6 per ounce against Friday and $60 within one month.
In the last few years, Vietnam had been one of the leading nations in gold imports. However, in the first five months of this year, domestic companies have exported $2 billion worth of gold, causing a decline of available gold on the domestic market.
According to economic experts, world gold prices will continue above the $950 threshold in the coming days.
Earlier, the world gold price hit a record $1,033 per ounce, but quickly dropped significantly, with many shocked by the sudden rise.
At the current time, there are many factors to support gold price, including spiraling prices of dollars.
According to the World Gold Council (WGC), world demand in the first quarter of this year was 1,116 tons, an increase of 38 tons compared with the same period last year, and demand for raw material gold increased by 248 percent.
Russia has recently bought more than six tons of gold, increasing its total reserves to 18 tons.
Investors fear that the FED's decision to pump money into the financial market will lead to the higher inflation.
According to Huynh Trung Khanh, a WGC consultant, after uninterrupted increasing four trading sessions, the world gold price would reach $1000 per ounce next week.
 
In other news, according to the General Statistics Office (GSO), the May CPI in Ho Chi Minh City has increased by 0.44 percent against April, and rose by 5.58 percent compared with the same period last year.
In May, ten groups of goods and services all increased by 0.03 to 1.8 percent, with transportation and postal services recording the highest increase of 1.8 percent.
 
Other consumer goods and services groups rose by 1.44 percent; housing and construction materials groups rose 0.97 percent; and equipment and household appliances went up by 0.51 percent.
Food and food service groups rose by just 0.18 percent, with foodstuffs and eateries rising by 0.36 percent and 0.38 percent respectively.
Meanwhile, the CPI in Hanoi in May is 0.25 percent higher than last month, a year on year increase of 12.91 percent.
Despite the decline in the prices of food and drink services by 0.25 percent and the stagnation of prices for educational products, all other groups witnessed a slight growth.
Telecommunications and transport saw the largest increase of 2.31 percent while other groups, such as tobacco, garments and textiles, housing, gas and gasoline, rose by 0.05- 2.23 percent. 
 
According to economic experts, the government's solutions to stimulate domestic demand, such as subsidized business loans and lowering corporate income tax, have yielded positive results.

The country's overall CPI, during the past five months, increased by 11.59 percent over the same period last year.