Businesses across every sector are learning that they the only way to succeed in the modern marketplace is to step up their environmental standards and advertise their products as eco-friendly.
Tourism is often mistaken as a low-impact industry that causes little damage to the environment.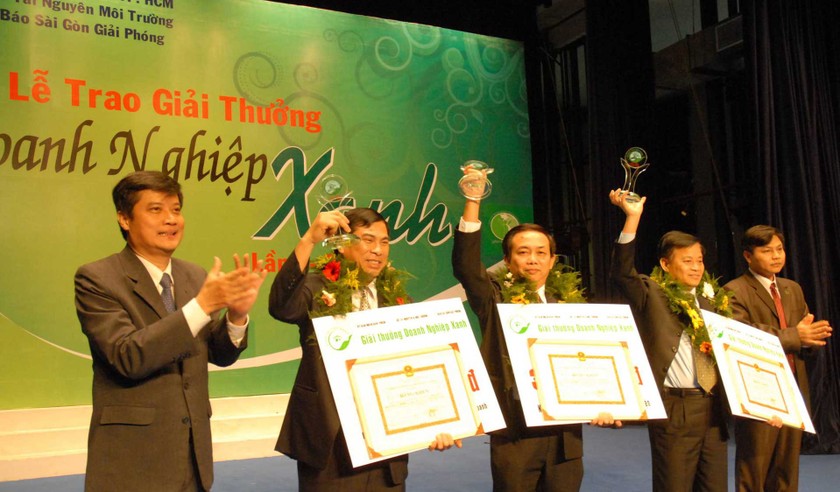 Nguyen Van Dua, deputy secretary of Ho Chi Minh City Party Committee (1st, L) grants "Green Company" certificates to eco-friendly enterprises. (Photo:SGGP)
But Dao Hoang Lien, chairman of the Ho Chi Minh City Green Club said foreign visitors still preferred "green" hotels despite the higher prices.
He said if Vietnamese hotels did not catch on to the trend, the country would soon see a drop in visitors.
Tran Thi Tuyet Mai, head of Kido Company's Marketing Department, said the company has to meet environmental standards in order to sell its products at big supermarkets.
Waste treatment systems have to adhere to strict environmental regulations and must be certified by the proper authorities, she said.
It is not difficult to make the "green" products, but the important thing is that the enterprises have sense to do so, said Mai.
Saigon Co.op Mart Supermarket Chain stopped purchasing Vedan products after inspectors discovered the company had virtually destroyed the Thi Vai River with its illegal pollution, said Saigon Co.op General Director Nguyen Thi Hanh.
A representative of Wooden Company said ensuring "green" standards was just as important as boosting quality and maintaining good prices, especially for exports.
Exports are checked by international organizations and will only pass if they meet environmental standards, the rep said.
But still, many companies are unaware of the benefits, and necessities, or eco-friendly commerce and industry.
According to Nguyen Thi Du, Chief Inspector of HCM City's Natural Resource and Environment Department, the number of environment violations increases every year.
Fifty-one enterprises found violating environmental laws in 2004, 208 in 2006, 283 in 2008 and 357 cases in 2009, the department reported.
In a 2008 World Bank report, the global lender said that Vietnam suffered losses of some US$70 million a year due to poor waste treatment solutions in the hospitality industry. Environmental pollution also makes Vietnam less attractive in competing with other countries since international tourists are now more concerned about the environment, the report said.
Environmental regulation violators can now be fined up to VND500 million ($26,000), seven times higher than the maximum rate last year, said the department.