The retail prices of A92 and A95 gasoline have increased by VND700 a liter to VND14,200 and 14,700 respectively with effect from July 1.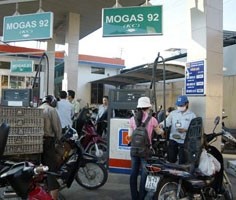 Motorcyclists at a HCMC filling station. Retail fuel prices have gone up in Vietnam from July 1 (Photo: Lao Dong)
Kerosene has gone up by VND650 to VND13,650, and diesel by VND600 to VND12,100 for 0.05%S and VND12,050 for 0.25%S.
Earlier, petrol businesses had asked the Ministries of Finance, Industry and Trade to hike gasoline prices by VND500 to 1,000.
They said they had to pay US$74.98 for a barrel of A92 and $76.79 for 0.25%S diesel imported from Singapore.
At the old retail prices, they lost around VND900 on a liter of A92 and 2,000 on diesel.
Gas companies have also announced a hike in prices from July 1. A 12kg cylinder of cooking gas has gone up by VND24,000-25,000 to VND 212,000-214,000.
They said world gas prices rocketed by $95 a ton to $520 in the last month.