The December consumer price index (CPI) fell by 0.24 percent from the previous month, bringing the CPI growth for the entire year down to only 1.84 percent, said the General Statistics Office (GSO).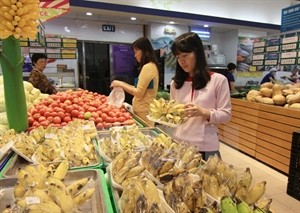 Photo: VNA
The December drop is attributed to petroleum price cuts on November 22 and December 6 which lowered transport costs by 3.09 percent, said Director of the GSO's Price Statistics Department Nguyen Duc Thang.
The tumble in global gas prices also led to a slump in domestic gas prices since December 1.
Besides transport, the category of housing and building materials saw their prices decline, by 0.94 percent.
Slight increases were recorded in food and foodstuff prices (0.14 and 0.05 percent) while the same trend was also read in such groups as household appliance (0.18 percent) and domestic services (0.19 percent).
Meanwhile, little change was seen in four categories, namely hospitality services (up 0.08 percent); pharmaceutical and medical and educational services (up 0.03 percent); and culture, entertainment, and tourism services (up 0.07 percent).
The average CPI this year showed a 4.09 percent increase compared to the 2013 average, lower than the Government's 5 percent target. It is also relatively low compared to the readings in the last decade, Thang said, adding that this means the Government's effort to curb inflation has paid off.
Once the CPI stays stable, the State Bank of Vietnam can further ease monetary policy and reduce lending interest rates, thus helping businesses cut their production costs and stimulate consumer demand, he said.
GSO General Director Nguyen Bich Lam forecast the recent plunge in fuel prices will continue pulling down production and delivery costs, thus keeping CPI low in January 2015. Next year's CPI may rise by 5 percent if the Government continues with drastic measures.