At the 42nd ASEAN Economic Ministers' Meeting, the Chairman, Vu Huy Hoang, confirmed the positive impact the Free Trade Agreements (FTAs) have had on trade within the group.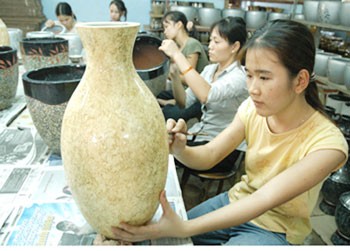 Workers decorate ceramic flower vases for export to Australia at Lac Phuong Nam ceramic factory. (Photo: Duc Thanh)
Mr. Hoang, who is also Vietnam 's Minister of Industry and Trade, said in an interview with the Vietnam News Agency (VNA) that ASEAN has signed FTAs with six of its major partners, including China , the Republic of Korea , Japan , India and Australia and New Zealand .
The minister said the FTAs with these partners have helped boost ASEAN's exports, especially to China , RoK and Japan , which benefits Vietnam immensely.
As a result, 27.8 percent of Vietnam 's export revenues to Japan receive preferential tariff rates under the ASEAN-Japan Comprehensive Economic Partnership Agreement (AJCEP). The rates under the free trade agreements between ASEAN and its partners are 21 percent to China and 79 percent to the RoK.
The head of trade called on the 10-member bloc to work out a long-term and consistent strategy to harmonise regulations of the different FTA's.
"ASEAN needs to tap its central position in the region better and take full advantage of the preferential tariffs offered by the FTAs," said Mr. Hoang.
He rejected the argument that some Vietnamese exports face difficulties due to the similarity in exports between Vietnam , ASEAN and China . Hoang emphasised that it's the economic structure which will decide the level of cooperation.
"Up to 80 percent of Vietnam 's imports from China and between 65 and 75 percent of its imports from ASEAN are from a third country as well as the raw materials and equipment for production," he explained.
"That's why stepping up cooperation with China and ASEAN has facilitated Vietnam 's capacity to produce more and export more," he emphasised.
The minister described China as Vietnam 's leading trade and investment partner, with the potential for enormous amounts of bilateral trade still lying ahead.
The 2008 bilateral trade revenue of US$20.2 billion has made China Vietnam's second biggest trading partner, after ASEAN.
The ASEAN-China Free Trade Agreement (ACFTA) has given Vietnamese industries more chance of accessing materials and equipment for production and export activities, said the minister.
The ACFTA, which asks China to cut 90 percent of all import tariffs on Vietnamese products from 2010, would create ideal conditions for Vietnamese imports to take a foothold in the world's third largest economy, especially products that Vietnam is strong in such as agricultural produce, seafoods and minerals.