The US Department of Commerce (DOC) has decided to abolish anti-dumping tariffs imposed on four Vietnamese companies that export frozen tra catfish fillets to the US, said the Vietnam Association of Seafood Exporters and Processors (VASEP).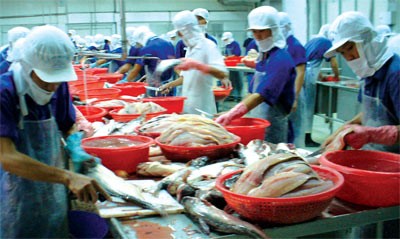 Processing tra catfish for export at a factory in the Mekong Delta (Photo: SGGP)
The DOC said Vietnam's QVD, Vinh Hoan, Samefico and Cadovimex II exporters did not dump the fish in the US market, and therefore, they will not be subject to taxes from now on.
 
The conclusion was the final result of the fifth administrative review of anti-dumping tariffs levied on Vietnamese frozen tra catfish fillets by the DOC between August 1, 2007 and July 31, 2008.
Two other Vietnamese exporters, Agifish and East Sea, will be subject to an anti-dumping tax rate of 0.02 percent, according to the DOC.
Nguyen Huu Tho, VASEP vice chairman, said this is just a preliminary determination by the DOC, and it will make a final decision in three or four months.
 
The zero-percent tax rate imposed on the four companies will be reviewed and adjusted every year by the DOC, he added.
The DOC first imposed anti-dumping taxes on frozen Vietnamese catfish exports to the US in August 2003. The taxes have been reviewed several times since then.
Dumping is defined as the export of items at either below cost or below the price charged in the home market.