The third annual Mekong Delta Economic Cooperation Forum will kick off in Kien Giang Province on April 21.

Titled "Tapping advantages of waterways to boost sustainable economic development in the Mekong Delta," the month-long forum aims to strengthen economic cooperation among provinces and cities in the Mekong Delta. It also targets creating closer relations between the delta and other regions across the country.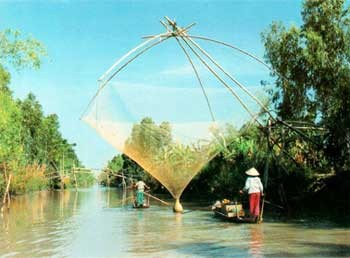 Farmers catch fish in a Mekong Delta river. (File photo)
Organized under a recent decision by Prime Minister Nguyen Tan Dung, the forum will last until June 25, focusing on strategies for the region's development and solutions to mitigate impacts of climate change.

Accordingly, several seminars on the issues will also be held in Ho Chi Minh City, Can Tho City, and Rach Gia City of Kien Giang Province.

Other topics will include measures for sustainable agricultural development, promoting waterway tourism, and calling for investment in the region.

In addition, a "Week of Mekong Delta in Ho Chi Minh City," starting June 1, will comprise a cultural exhibition and trade exchange sessions as part of the forum.

Development of the Mekong Delta cannot be strategized without consideration of the region's waterways, which are of great significance to agricultural and fishery development in the area, said Luu Phuoc Luong, deputy head of the Southwestern Region Steering Committee and head of the forum's Steering Board.

Therefore, the upcoming forum aims to receive feedback and advice from scientists, international organizations, and business managers on a development strategy for the region amidst current impacts of climate change, he said.

Besides the committee, the forum's organizing board includes the Ministry of Trade and Industry; the Ministry of Planning and Investment; the Ministry of Finance; the Ministry of Culture, Sports and Tourism; the Government Office; and leaders of Mekong Delta provinces and cities.