One of the main tasks of the trading sector for 2006-10 is to seek overseas markets to boost export activities. To fulfill its task, the sector is encouraging corporations to set up their own trading centers overseas. Yet, the establishment of such centers abroad does not come without difficulties and obstacles for many corporations.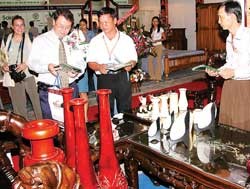 Foreign customers buy wooden wares at an export exhibition 
There are Vietnamese trading centers operating in New York and in Dubai. The Ministry of Commerce and Industry and the Ministry of Planning and Investment are working on a plan to build seven more centers in key markets overseas.

Mr. Dang Ngoc Quang, former Vietnamese commercial counselor in Dubai revealed that since its establishment date, the Vietnamese trading center in Dubai has created many business opportunities for Vietnamese import and export enterprises and those in the Middle East. He emphasized the increase in Viet Nam's export-turnover with the Middle East last year compared to the previous year.

Mr. Quang added that the trading center has paved way for many medium and small –scaled Vietnamese enterprises enter into big contracts with local ones. Without the trading center, things would be different.

In Ho Chi Minh City, the Investment and Trading Promotion Center is establishing trading centers in Australia and Cambodia. The Saigon Trading Group (Satra) just set up a trading center in the U.S. last year.

Mr. Huynh Van Minh, general director of Satra, stressed that the group plans to build trading centers in some other foreign countries in the upcoming future as they will help Satra and its affiliates boost their export and import activities effectively.

No one can deny the important role of trading centers abroad for both Vietnamese and foreign enterprises. Yet, reality shows that to many companies or corporations of Vietnamese side, having such a center established in a desired foreign country does not come easily.

In 2003, HCMC's Department of Trade and Commerce to set up a project to establish a seven–story trading center in Moscow. The project cost US$100 million. In 2005, 1.8 hectares of land in southern Moscow was granted by the Russian government to HCMC to carry out the project. According to the building plan, the first phase of the project should have started in last June so that the trading center could begin operation by the end of 2008.

Unfortunately, the project has not made any progress since 2005. A high-ranking official city official blamed the failure on complicated Russian administrative formalities.

"It's not because of Vietnamese corporations' shortage of funds but because the administrative formalities required in some foreign countries are very complicated," he said. "They are even more complicated than ours."

This fact explained why since 2006, Viet Nam has only been able to set up only two trading centers in foreign countries.