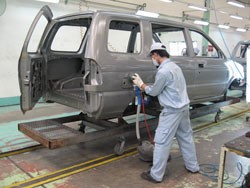 In a automobile assemblying factory of the Isuzu Viet Nam Company. The growth rate of the non-private sector is increasing rapidly (Photo: T.C.)
According to the Ministry of Industry, revenue of industrial production in the first four months reached VND43,065 billion (about US$2.7 billion), an increase of 15.6 percent from the same period last year.
Particularly, the growth rate of the non-private sector is way on top at 20.2 percent, followed by the foreign investment sector, which increased by 18 percent. The state-owned increased by only 8.3 percent, while the local state-owned businesses contracted by 0.2 percent.
In terms of the production revenue for the first quarter, the state-owned sector is also at the bottom, accounting for just VND49,245 billion (about US$3.1 billion). Leading was the foreign investment sector with VND60,014 billion (about US$3.8 billion), followed by non-state sectors with VND53,495 billion (about US$3.4 billion).