A capital shortage leaves Vietnamese businesses are at risk of lagging behind foreign rivals, who are strongly buying materials from local suppliers, say associations.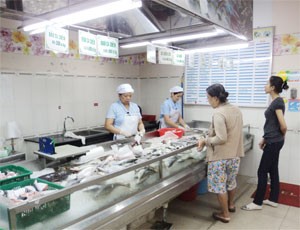 Shoppers browse seafood at the HCMC-based supermarket Co.op Mart Dinh Tien Hoang. Experts warn foreign firms' strong material buying in long term will leave local producers with a severe shortage (Photo: Minh Tri)
Vietnam's export turnover topped US$42 billion in the first six months of 2011, a year-on-year increase of 30 percent, according to the General Statistics Office.
Export prices remain on a rise this year, with food and agricultural products among biggest gainers.
However, economists warn that many local businesses are coping with an increasing speculation on cassava, cassava starch and pepper.
Vietnam Pepper Association chairman Do Ha Nam says high-cost loans hit domestic manufacturers hard.
Foreign-invested enterprises with strong financial base, meanwhile, have stocking up on materials, Nam says.
Strong buying from foreign businesses is helping boost sales of Vietnamese material suppliers, says Tran Quoc Manh, vice chairman of the Ho Chi Minh City Handicraft and Wood Industry Association.
However, Manh worries that the purchase in long term will then leave local producers with severe material shortage, forcing them to import from abroad.
They will consequently be at risk of being bankrupt since the foreign businesses with low-cost products capture all of their market shares, he warns.
Many food suppliers are struggling to approach state-subsidized loans for business expansion, which are provided only by the Vietnam Bank for Agriculture and Rural Development, says an economist in HCMC.
"I think the government should allow many other banks to provide low-cost loans for local food suppliers," he proposes.
Nguyen Hoai Nam, deputy general secretary of the Vietnam Association of Seafood Exporters and Producers, says seafood exporters had to reduce operation due to a shortage of raw materials despite the rising consumption this year.
"Therefore I hope the Ministry of Industry and Trade will cooperate with the Ministry of Agriculture and Rural Development to keep closer eye on foreign businesses' material buying," Nam says.
He also suggests that local authorities should curb the shortage before it causes a surging material import, which will worsen the trade deficit.
Vietnam's trade gap amounted to $6.7 billion in the first six months of the year, an equivalent of 16 percent of the total export turnover, according to the General Statistics Office.
Analysts say many Vietnamese enterprises are more eager to provide outsourcing services for foreign companies than to become a manufacturer, although they have advantages over their overseas opponents when buying materials.
The foreign companies also overtake the domestic firms to establish distribution network in cities and provinces across the country.