Many foreign direct-invested (FDI) businesses have shifted from manufacturing to sales and distribution of products in the Vietnam market, according to a news report.
Dao Ngoc Hoang Giang, CEO of Sao Mai office equipment joint-stock company under the SaoMai Group, said that many FDI businesses planned to shift to increasing the number of imports of finished products and expand distribution of many product brands.
Vietnam Investment Review quoted Mochizuki Kentaro, chairman of the Japan-based Sanyo HA Asean Corporation, as saying that lower import taxes were one of the reasons for the shift.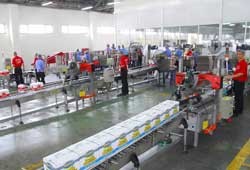 Vietnam News file photo shows workers at Singapore-invested Cai Lan Oils and Fats Industries Co produce oil at the Cai Lan Industrial Zone in the northern province of Quang Ninh.
Vietnamese businesses formerly paid import taxes of 50 per cent, but after the country signed the ASEAN Free Trade Agreement (AFTA), import taxes fell to 20 per cent and then to the current 5 per cent.
Because of lower import taxes, FDI companies preferred to import finished products rather than manufacture them, Kentaro said.
However, Sanyo was still producing refrigerators and washing machines in Vietnam as they had a stable market here.
They could also export washing machines to Japan, other ASEAN member countries and other countries, he added.
This year, Sanyo has set a target of selling 460,000 washing machines to local distributors, an increase of 100,000 compared to previous years.
In addition, Sony Vietnam has increased its sales target after it terminated a joint-venture with Viettronics Tan Binh at the end of last year.
Yuzo Otsuki, CEO of Sony Electronics Vietnam, told Dau Tu newspaper that Sony had no plans to build a manufacturing plant in Vietnam, but would rather expand sales and distribution.
He also said that imported TV Bravia sets contributed to 60 per cent of Sony's growth in Vietnam last year.
Representatives of Sony said to expand market share, Sony also planned to set up a centre that retails imported products of Sony in Ha Noi market and other big cities in Vietnam.
Since the beginning of this year, many FDI businesses have started applying for licences for the distribution of imported products, including Samsung Vina Company and Michelin Vietnam, according to the city's Department of Planning and Investment.
Giang said that many businesses had licences for distribution and even retail distribution of products, such as Fuji Xerox, which imports printers from Japan.
Despite several barriers in applying licenses for retailing foreign-brand products, many businesses could still develop market share by co-operating with local distributors, Giang said.