American automaker Ford plans to spend US$10 million to expand production by 35 percent at its auto plant in the northern province of Hai Duong.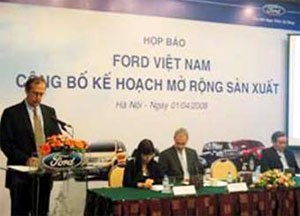 Ford announces additional investment in Viet Nam at a recent press conference in Ha Noi.
Speaking at a recent press conference in Ha Noi, Ford Vietnam general director Michael Pease said the plant would be able to produce around 9,500 units per year from mid-2008.
With the extra $10 million, Ford will have invested US$110 million in Viet Nam since 1997.
The plant in Cam Giang District was designed and built with flexibility in mind, making it easy to expand production and the range of models it can turn out.
The additional 130 workers recruited for the bigger operation will bring the plant's workforce to 740.

By the end of 2007, Ford Vietnam had assembled more than 35,000 units, racked up revenue of US$163 million, and paid tax of US$48.5 million, or 30 percent of Hai Duong Province's total tax payments in the period.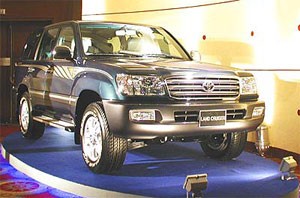 A Land Cruiser made by Toyota Motor Vietnam
Late last year, Toyota Motor Vietnam announced a US$50 million investment to increase its production capacity from 20,000 units in 2007 to 25,000 in 2008 and 30,000 by the beginning of 2009.
Such an aggressive investment plan shows the company's great confidence in the Vietnamese auto market and, more importantly, its long-term commitment to Viet Nam.
Last year Toyota sold more than 20,000 motor vehicles in the nation, a year-on-year increase of 36 percent.