Several Vietnamese footwear businesses have been speeding up production to meet the sudden demand in exports since early this year.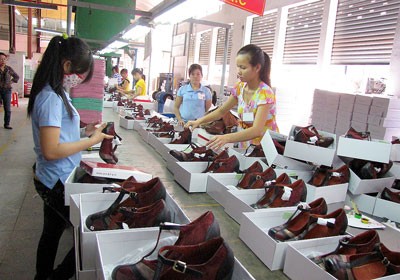 Shoes being packed for export at a company in Binh Duong Province (Photo: SGGP)
Truong Thi Thuy Lien, director of Lien Phat Shoe Company in Binh Duong Province, said in 2012 the shoe industry met with a lot of difficulties due to fall in purchasing power in the EU market.
However, since the first quarter of the year, orders have increased from old customers. Besides, orders have also been placed by new customers from Germany and England.
The company now has to recruit more workers to meet production demand, said Lien.
Nguyen Chi Trung, director of Gia Dinh Shoe Company in Ho Chi Minh City, said there are more orders now than there were during the same period last year.
Besides orders from old customers in the EU market, there are also orders from the US and Japan.  The company has had to speed up production to meet this demand.
This good fortune can be attributed in part to commercial agreements like the Free Trade Agreement between Vietnam and EU (FTA) and the Trans Pacific Partnership (TPP), still under negotiation.
When FTA takes effect by 2015, import tariff on several kinds of footwear exported to the EU will slash to zero percent.
According to the Vietnam Leather and Footwear Association (Lefaso), TPP will bring many opportunities for Vietnamese businesses to expand their market. The current import tariff of 14.3 percent to the US market will fall to only zero percent when this agreement takes effect.
Vietnam is now the second largest footwear export country after China, for the EU and US markets.
Lefaso expects that footwear exports will reach US$8 billion this year, an increase of about 10 percent over last year.