Thousands of visitors, both local and international, paid a visit to the Food and Hotel Vietnam 2009 Exhibition in Ho Chi Minh City on Oct. 1, the first day of the three-day event, where strong international presence is seen.
About 350 exhibiting companies, with three-fourths from overseas, are attending the food and drink, hotel, restaurant, bakery, food equipment, supplies and services exhibition and conference, held at the Saigon Exhibition and Convention Center in District 7.
The exhibitors come from Australia, Belgium, Brazil, Cambodia, Canada, Chile, China, Denmark, France, Germany, Hong Kong, Indonesia, Italy, Japan, Korea, Malaysia, the Netherlands, the Philippines, Russia, Singapore, Saudi Arabia, Spain, Sweden, Switzerland, Taiwan, Thailand, Turkey, the UK, the USA and Vietnam.
Nine international group pavilions are present on the exhibition floor, representing Australia, France, Korea, Singapore, Taiwan, Thailand, the USA, together with newcomers Belgium and Brazil.
The Belgian products at the exhibition, held every two years, include world renowned chocolate and nougat candy, which caught lots of attention from visitors.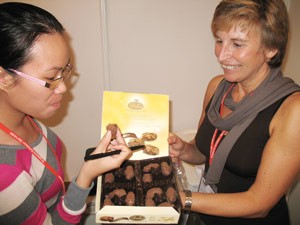 Chantal Gheysen (R), advisor at the Economic Council of East Flanders, Belgium, invites a visitor some Belgian chocolate on Oct. 1 (Photo: Tuong Thuy)
The event, in this fifth edition, is held by Singapore Exhibition Services Pte Ltd and the Vietnam Chamber of Commerce and Industry Exhibition Service Company.
Ms. Ting Siew Mui, project director of the expo, said: "Since its launch in 2004, Food and Hotel Vietnam has contributed to the evolution of the local food and hospitality industry."
"Participants can look forward to an even better experience this year as the event is enhanced to offer not just a premium showcase of the latest products and solutions from across the globe, but also new and exciting events designed to raise the bar of excellence and knowledge for Vietnam's industry professionals," she added.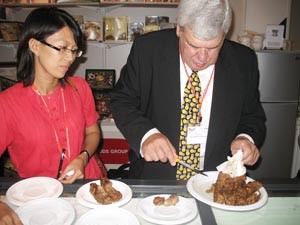 Ron Davis (R) from the Bell Export Foods Group, USA, prepares dishes of rib for visitors to taste on Oct. 1 (Photo: Tuong Thuy)
Food and Hotel Vietnam2009 is expected to an important platform for visitors to network with key decision makers in the business community, learn the latest industry intelligence and gain direct access to a comprehensive range of high quality products and services available in the global marketplace.

The event witnesses the return and debut of various foreign and local companies and organizations, including Andy Mannhart, Charles Wembley, Chinatown Food, Del Monte, EuroChef, Flanders Investment & Trade, Grand Place Chocolate, Hermann Laue, Hosen, Lamb Weston, Libbey, Meat and Livestock Australia, Pasabahce, Tai Hua Sauces, Tong Garden, USA Poultry and Egg Export Council, US Meat, and the Western United States Agricultural Trade Association (WUSATA).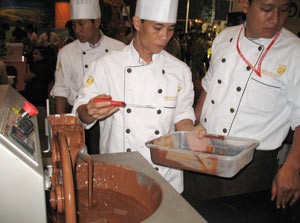 Grand Place Chocolate staff make chocolate on Oct. 1 (Photo: Tuong Thuy)
Prominent exhibiting companies from Vietnam are An Nam Fine Food/ An Nam Equipment, Good Food, Minh Long I Company, New Viet Dairy, Tan Uc Viet, Unilever, and newcomers Dan & Dan, Angst Truong Vinh, BT Corp, Illy Coffee, VietSolutions and Vergnano.
Thirty American food and farm produce companies are taking part in the exhibition, according to the agricultural section of the US Consulate General in HCM City.
Exports of beef, pork and chicken from the US to Vietnam exceeded US$100 million in the first seven months of this year, increasing by 20% on the same period last year, according to the US agricultural section.
Franchising Vietnam 2009
Franchising Vietnam, the country's first professional franchising trade show, is being held alongside the food and hotel expo at the same venue.
The organizers expect the franchising trade show, in its inaugural appearance, to bring to local and overseas companies a platform to interact with potential business partners and capitalize on the franchising industry in Vietnam.
Key exhibiting companies are Bobby Brewers, Hands On, Q-Dees Worldwide Edusystems, Quality Kids, Sarpino's Pizzeria, and UKK Garment.