Japanese authorities were instructed to carry out full inspections of shrimp and cuttle-fish imports from Viet Nam after residues of the antibiotic chloramphenicol were found in them.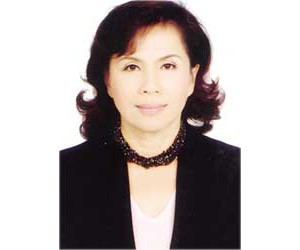 Fisheries Minister Nguyen Thi Hong Minh
As a result, more than 40 Vietnamese seafood companies will temporarily halt exports of the two kinds of seafood until the problem has been sorted out.
Sai Gon Giai Phong talked with Deputy Minister of Fisheries Nguyen Thi Hong Minh concerning the matter.
According to Ms. Minh, until recently, Japan did not impose regulations on imported seafood. Exporters were only required to meet the standards of the Hazard Analysis and Critical Control Point System (HACCP) when shipping to US and European markets.

As a result, most Vietnamese seafood exports were sent to Japan. In July last year, however, Japan's Ministry of Health and Labour enacted new regulations pertaining to food hygiene, one result of which was the detection of the chloramphenicol residues.
She added that the current situation with the Japanese is complicated for several reasons. The fact that traces of the antibiotic were found at all came as a surprise both to the Ministry of Fisheries and large seafood companies.
As it happens, smaller scale fisheries that supply some of the larger organizations use the drug to reduce the amount of ice required to preserve the fish.
As well, the government has little or no control over unregistered seafood processors and access to the antibiotics themselves is also largely unregulated.
To deal with the matter, the Ministry of Fisheries has come up with a management system to control seafood quality.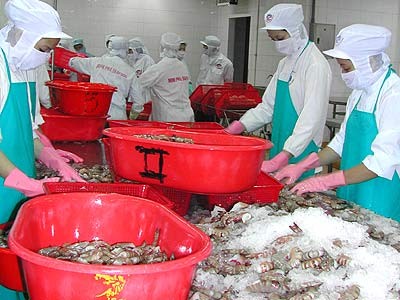 Workers process shrimp seafood product
Under the plan, seafood processors will be responsible for their products. The ministry will provide them with guidelines and techniques for safe processing methods.
Further, the Ministry will register all seafood processors under one association in order to standardize hygiene standards across the board. This will also provide them with the legal means to enforce regulations equally throughout the industry.
The fisheries sector expects to reach an export turnover of US$3.6 billion in 2007, a year-on-year increase of 7.02 percent, and is striving to net 3.8 million tons of product, including 2 million tons from fishing and 1.8 million tons from aquaculture.

The target was set at a meeting held in Ha Noi on January 16 to review the sector's performance in 2006 and discuss its plan for 2007.

Addressing the meeting, Permanent Deputy Prime Minister, Nguyen Sinh Hung, requested that the sector breed more economically valuable species in order to increase output value. He added that by 2010, the Fisheries Ministry must develop large-scale fishing fleets, guarantee fishermen's safety, and protect the environment, Hung stressed, adding that it needs to develop large business models to achieve the target of US$5 billion per year in export turnover.