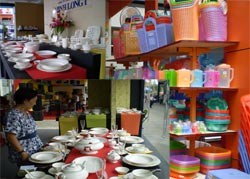 Some stands of the participants of the High-Quality Vietnamese Goods Fair. (Photo: Thanh Nien News)

Revenues from the High-Quality Vietnamese Goods Fair reached VND30 billion, organizers announced on May 3.
Saigon Jewelry Company topped the list by raking in VND1.4 billion.
Next were Bien Hoa Sugar Co. with VND780 million, Viet Thang Garment Co. with VND580 million, and Phu Nhuan Jewelry Co. with VND500 million.
The six-day event attracted 350,000 visitors, organizers said, adding that participants agreed on 75 new deals, and signed 117 memorandums of understanding and 28 contracts during the event.
Several programs at the fair aimed to help local firms to extend their domestic market shares as a springboard towards approaching other countries in the region and around the world.