Vietnam's trade deficit fell less than US$1 billion for the second consecutive month at US$950 million this February.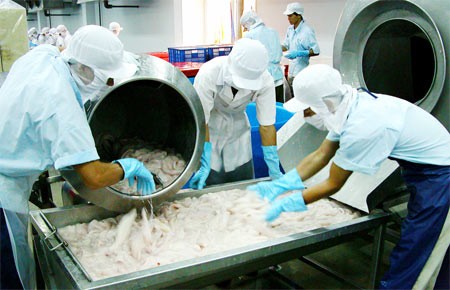 Processing tra catfish for export at a factory in Vietnam (Photo:SGGP)
The country has seen a trade deficit of over US$1billion in the last three months of last year.
According to the General Department of Customs, the country's total export turnover has reached US$5.25 billion in February, a 26 percent decrease since January. The total import turnover was estimated at US$6.2 billion, a 22 percent decline compared with the previous month.
 
The department believed the long New Year holiday season had led to a temporary decline in the export turnover.
 
Compared with the last Tet season in February 2010, the export turnover has soared by 40.4 percent and the import turnover has risen by 22.3 percent.
Export commodities had risen in both volume and value, partly due to escalating global prices.
24 out of 26 export commodities showed an increase in revenue including crude oil, up by 23.3 per cent; rice, up by 50 per cent; rubber, up by 175 per cent; seafood, up by 41.1 per cent; coffee, up by 47 per cent and cashews, up by 43.8 per cent.
Meanwhile, several other commodities also showed a gain. Textiles and garments were up by 54.2 per cent; shoes and footwear, up by 37.8 per cent and steel, up by 85 per cent.
Export of gemstone and precious metals was estimated at US$39 million, a 28 percent rise from the same period last year.
Only pepper and coal export turnovers have declined due to a decrease in volume.
Many export commodities like agricultural products and rubber have seen a profitable price rise.
Import of milk and dairy products, fertilizer and pesticide have dropped, although other commodities saw a rise in import revenues.
Cotton imports have been up by 102.9 per cent compared to the same period last year, followed by fiber, petrol, cloth, computers and plastic materials.
Import of both automobiles and motorbikes has also increased.
According to the Ministry of Industry and Trade, in order to curb the trade deficit, the country would import around 81.7 per cent of necessary commodities this year while the remaining would be strictly controlled.