Disbursement of foreign direct investment (FDI) reached US$1.15 billion in the first two months, up by 4.5 percent against the same period last year.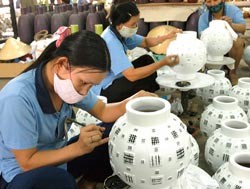 Natural Environment Viet Nam Co., Ltd., 100% capital owned by Australia, produces potteries for export in HCMC (Photo: SGGP)
According to the Foreign Investment Agency (FIA), in February alone the disbursement of FDI was estimated to reach US$600 million.

During the first two months, the nation attracted US$1.56 billion, showing a 32 percent annual decrease.
Around 93 new foreign-investment projects were granted license during this period worth US$1.47 billion, while 14 existing projects were allowed to increase their capital by US$86 million.
Singapore was leading foreign investments in Vietnam with US$1.08 billion, accounting for 69.2 per cent of the total registered capital. This was followed by British Virgin Island with US$186 million, South Korea and Malaysia with US$89.9 million and US$42.7 million, respectively.
During this period, the processing and manufacturing sectors attracted the largest share of FDI, making up US$1.2 billion.
The construction sector contributed US$71.7 million, while the retail sector ranked third, attracting US$48.8 million.
With a US$1 billion solar panel producing project, the southern hub of Ho Chi Minh City was the most attractive locality in the eyes of foreign investors.
It has absorbed a total investment capital of US$1.1 billion, followed by the central city of Da Nang with US$180 million and the southern province of Dong Nai with US$81.4 million.
The foreign-investment sector is estimated to generate US$6.98 billion from exports during the first two months, up by 40 percent and accounting for 56.6 percent of the country's total export turnover.
The sector also posted an export surplus of US$1.05 billion.