The disbursement of Foreign Direct Investment (FDI) capital increased the highest rate ever, reaching US$12.35 billion as of December 15, up 7.4 percent over the same period last year and 2.9 percent above the year plan.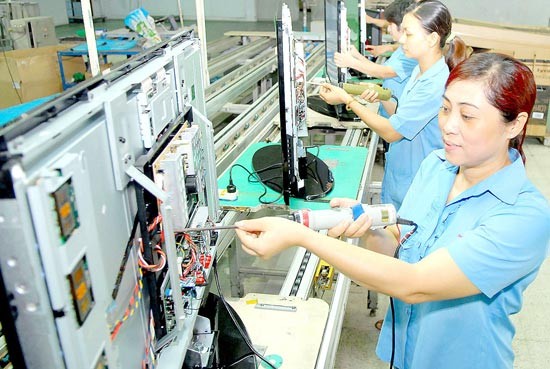 (Photo: SGGP)
According to Foreign Investment Agency under the Ministry of Planning and Investment, foreign businesses have registered to invest UD$20.22 billion, accounting for 93.5 percent against a year ago and 19 percent beyond the year plan.
Of these, newly registered and additional capital total US$15.64 billion and US$4.58 billion, a year on year increase of 9.6 percent and 62.4 percent.
Processing and manufacturing continued to be the most attractive fields with 774 new projects registered at US$14.49 billion, occupying 71.6 percent of total FDI capital in 2014.
Real estate is ranked second with 35 new projects having a capital of US$2.54 billion equivalent to 12.6 percent of the total FDI capital.
Three projects with registered capital exceeding US$1 billion have got investment certificates. They all belong to the South Korean Samsung Group including a US$3 billion hi-tech complex in Thai Nguyen province, US$1.4 billion Samsung CE complex in Ho Chi Minh City, and US$1 billion Samsung Display in Bac Ninh province.