The Ho Chi Minh City Export Processing Zone Authority (HEPZA) said for the first quarter of 2016, the FDI attraction reached US$ 116million on the industrial parks and export Processing zones in HCMC , a decrease of 69.5 percent compared to the same period last year.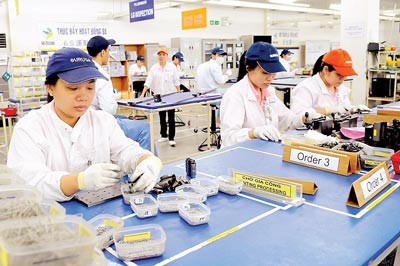 Workers are working at Misumi Group Company at Linh Trung Processing Zone, HCMC
However, the capital source from domestic enterprises pouring to industrial parks increased highly. In the first three months of 2016, domestic enterprises registered the investment of US$ 1,8trillion in the city's industrial parks a rise of 80 percent compared to last year.
According to Huynh Cong Khanh from HEPZA, in upcoming times, Hepza will continue to promote investment in Vietnam-Japan Technology Company at Hiep Phuoc Industrial Park; mobilize enteprises to build manufactories meeting the standars.
Besides, HEPZA will cooperate with JETRO, JBAH to connect to Japanese Industrial parks to attract investment from Japanese enterprises into Vietnam's industrial parks and export processing Zones.