Mekong Delta farmers have rushed to grow rice as world and domestic rice prices have soared. Are they reaping fat profits?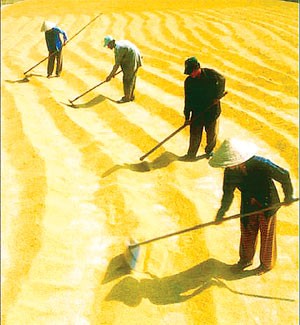 Farmers switch to rice as world and domestic rice prices have soared sharply
The world rice price has exceeded US$1,000 (VND16.1 million) per ton since late April, a threefold increase since the end of 2007.

The domestic rice price has risen by VND120/kg everyday since last week. At present, the wholesale price of rice is VND10,000 (US$0.62) a kilogram, up by VND1,000 compared to last week.

A kilogram of unhusked rice cost VND7,000 Tuesday, up VND800 over last week, and paddy prices climbed to VND5,000-5,300/kg, up VND800-1,000 compared to last month.

A rice merchant in Can Tho City's Cai Rang District said the current rice and paddy prices were the highest in at least 20 years.

Many farmers have quit raising tiger shrimp to grow rice because of the price hike, particularly in southernmost Ca Mau Province where all land was previously used for shrimp farming.

Farmers in Hau Giang and An Giang provinces have begun to grow three crops a year instead of two to increase production.

Mr. Nguyen Van Dong, head of Hau Giang Province's Agriculture and Rural Development Department, said farmers could get a profit of VND2,300/kg to VND2,700/kg on paddy grain, about 50 to 60 percent of the selling price.

However, the rest of the selling pays for the farmers' expenses and farmers are not allowed to include all their expenses in the price they charge.

At present, not only is the price of rice rising, but the price of fertilizers and insecticides are also rising. If the prices of all farming materials rise simultaneously, profits will plunge.