The Livestock Breeding Department convened an emergency meeting January 13 with other agencies, fresh-milk traders, and farmers in Ha Noi to discuss measures to boost milk consumption.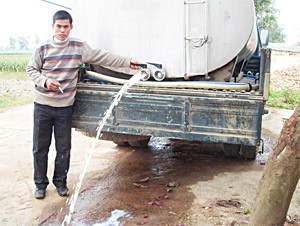 A dairy farmer in Yen Lac District, Vinh Phuc Province, pours milk on the road. Many northern farmers are destroying their milk stocks after Hanoimilk halved its purchases following the melamine scare (Photo: SGGP)
With Hanoimilk Company, the biggest buyer in the north, halving purchases following the recent melamine scare, dairy farmers and agents are being forced to destroy hundreds of tons of milk.
 
At the meeting, the People's Committee of a commune in Gia Lam District said farmers are pouring their milk on roads and into ditches.
 
The department said pouring milk on the  road is uncultured, wasteful, and unacceptable.
 
Nguyen Van Tam of Trung Nguyen Commune called the department's remark unfair since farmers cannot preserve their milk for more than two days or drink it all themselves.
 
"We have worked with schools around the locality to give milk to their students but they do not want to drink either," he added.
 
Mr. Tam too pours his milk on the road but has sued the Ministry of Health for making contradictory public announcements about the melamine contamination, scaring consumers and leaving farmers in a fix.
 
Solutions
 
Hanoimilk buys milk from thousands of farmers in Ha Noi and the provinces of Bac Ninh and Vinh Phuc.
 
Tran Dang Tuan, its general director, said when the company's business was doing well, it bought over 40 tons a day. But it now buys only 20 tons because consumers have turned their backs on its products following a "wrong assessment" that they contain melamine.
 
Officials said at the meeting that the only solution is for other major diary companies like Vinamilk and the International Dairy Product Company (IDP) to buy milk from the farmers.
 
A Vinamilk executive said his company would have to consider the quality of the dairy cows and the milk and farming practices before buying from these areas.
 
Dao Duy Tam, deputy director of the city Agriculture and Rural Development Department, wanted Vinamilk and IDP to increase their purchases by 30 percent to mitigate the difficulties faced by other dairy companies and farmers.
 
But if they insist on stringent conditions in terms of farming practices and delay their purchase by a mere month, thousands of dairy cows might be killed for their meat.
 
Hoang Kim Giao, head of the Livestock Breeding Department, said the companies should buy the milk directly from farmers instead of through agents.
 
But he added that breeders also have to look at other options like selling retail, making yoghurt, or giving away their milk to schools and old age centers.