Recent increase in rice prices in the Mekong Delta has failed to bring any enthusiasm to farmers as they have already sold off their crops at low rates while traders and enterprises are reaping profits from early purchases, as farmers regretfully look on.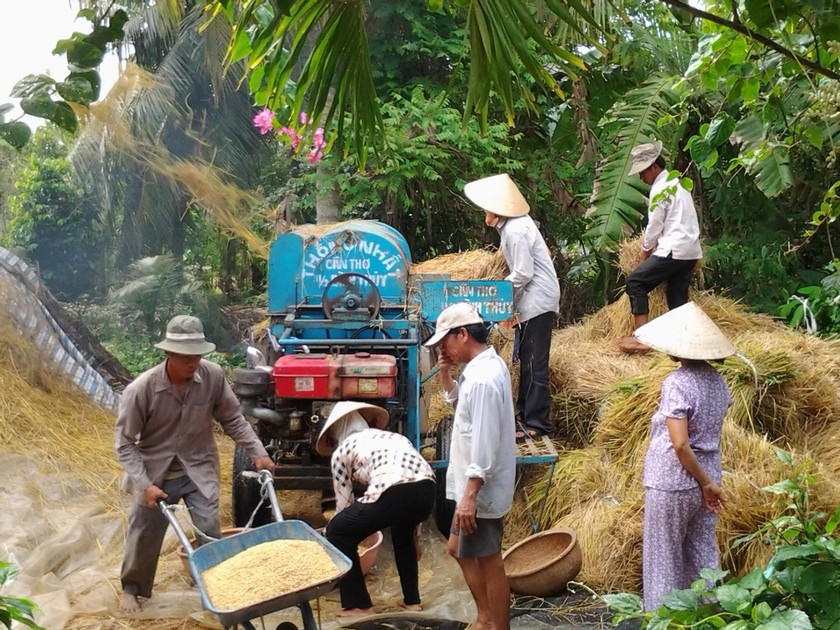 Farmers in Ben Tre Province harvest their crop (Photo: U. Phuong)
Up to now, farmers have harvested almost 1.6 million hectares of summer-fall rice crop, with most of them having sold off their unhusked rice directly from fields to pay for daily expenses, pay off debts for fertilizers, pesticides etc.,  and for cultivating their next fall-winter crop.
Farmers feel depressed with the increased rice price. Currently, low quality fresh IR50440 in the Mekong Delta is selling for VND5,000 (US$0.23) per kilogram; dried variety for VND5,800 ($0.27) a kilogram; and high quality long rice for VND6,000 ($0.28) a kilogram in Cai Rang, Thot Not Districts in Can Tho City, Sa Dec town in Dong Thap Province and Cai Be district in Tien Giang Province.
Farmer Nguyen Van Be Hai in Chau Thanh District of Dong Thap Province moaned that he sold all his rice cultivated on his four hectare farm for VND4,000 a kilo so as to be able to pay for old debts. Also because of lack of warehouse facilities to stock rice, he lost VND1,200 on every kilogram.
This is a tragic paradox that farmers who directly produce rice have to suffer the most losses while enterprises and traders made a killing on profits. Moreover, enterprises also benefit from preferential financial policies for collecting rice directly from farmers.
Duong Quoc Nghia, director of the Department of Agriculture and Rural Development in Dong Thap Province, said farmers in the Mekong Delta lack facilities to stock rice at home or in their locality and most of them sell to companies and traders immediately upon harvesting.
According to information provided by Vietnam Food Association (VFA), export rice price in August increased by $45 per ton, but  the association has cautioned enterprises not to be in a hurry to sign contracts to sell rice at low rates, as markets were showing signs of going buoyant.
Vietnam should take a lesson from Thailand, whose government offers subsidizes to farmers. Le Van Banh, director of the Cuu Long Delta Rice Research Institute, said that the government's preferential policy to farmers can help surge rice prices and weak competition in the market.
Thai farmers benefit a lot from the above policy while Vietnamese farmers always face losses.
Banh added that their Thai counterparts had shared during their trip to Vietnam that they paid little heed to being at first or second position, as their main concern was the farmers and how they can benefit. Many agricultural experts and scientists who have lived for many years in the Mekong Delta agree to this policy.
Vietnamese government should not strive to become the first and biggest exporter in the world but consider farmers' plight and long-term prosperity and national food security.