Viet Nam made US$4.4 billion from exports last month, bringing the total for the first eight months to US$31.5 billion, the Ministry of Industry and Trade reports.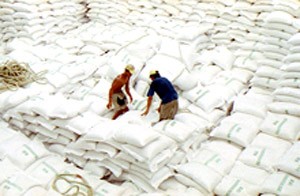 Rice exports grow remarkably in the first eight months
The figure for the January-August period is an increase of 19.3 percent year-on-year and equals two thirds of the government's 2007 target.
 
Rice exports grew remarkably to 3.6 million tons, easily overcoming the billion-dollar mark to earn more than US$1.15 billion.
 
However, rice shipments abroad will decline drastically in the final four months as the ministry has told exporters to refuse any more orders so as to keep domestic stocks up and domestic prices within reason.
 
Other staple goods generated good export sales too. Coffee earned US$1.4 billion, up a whopping 90 percent, fish and other aquatic products US$2.36 billion, footwear US$2.72 billion, furniture US$1.4 billion, and computer parts and other electronics US$1.3 billion.
 
Textiles and clothing bounced back after US buyers returned to place orders for the fourth quarter and early 2008. This sector earned slightly over US$5 billion from January to August, an increase of 30 percent.
 
At this rate, Viet Nam will likely earn US$47 billion from the export trade this year.