Export prices of Vietnamese rice have been increased by US$50-70 per ton, a year-on-year increase of 50-53 percent, since mid-February and are expected to rise slightly again this month, said the Ministry of Industry and Trade.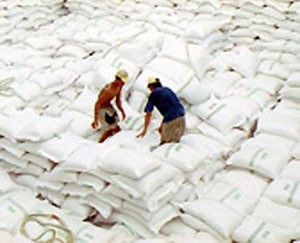 Vietnamese rice exports enjoy 53 percent increase in prices
At present, Viet Nam's 5-percent-broken rice is offered at US$460 per ton, and 25 percent-broken-rice at US$430 per ton.
The Ministry said export prices will continue to rise in March due to the increased demand for rice globally. The current atrocious weather has impacted negatively on rice harvests in Thailand and Viet Nam, the world's largest rice exporters, affecting supply.
Viet Nam earned US$150 million from the export of 381,000 tons of rice during the first two months of this year, a year-on-year increase of 46.7 percent and 78 percent in terms of volume and value respectively.
The Ministry said though the country's rice export increased sharply in comparison to last year, it remains lower than the past five years.
Many Vietnamese companies have already signed contracts to export rice but are now running low on supplies of rice.
The limited supplies have been attributed to the current poor west-spring crop. In addition farmers are reluctant to sell their rice when prices are likely to increase.