Vietnam's export import turnover reached US$230.23 billion this year as of October 15, according to latest statistics by the General Department of Vietnam Customs.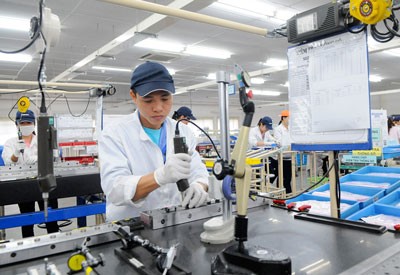 Production of electronic components for exports at the Japan-invested Saigon Precision Company in HCMC (Photo: SGGP)
That was a year on year increase of 12.9 percent equivalent to US$26.22 billion. The balance of trade saw a surplus of US$1.84 billion.
Export turnover hit US$116.04 billion, up 14.1 percent over the same period last year. The number increased 15.1 percent to reach nearly US$71.72 billion in Foreign Direct Investment (FDI) sector, accounting for 61.8 percent of the country's export value.
Import turnover was recorded at US$114.2 billion, an increase of 11.6 percent from a year ago. Of these, FDI sector's import value hit US$64.41 billion occupying nearly 56.4 percent the country's value.