The presence of too many incompetent and inexperienced rice exporters is more of an obstruction for the export of rice, says Vietnam Food Association deputy chairman Pham Van Bay.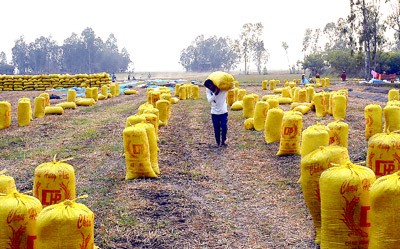 Rice being packaged before selling.(Photo:SGGP)
Although numbers of rice exporters have decreased this year compared to 2010 (284 in 2010), unfair competition and lack of storage and processing facilities still prevail.
As quoted by the General Directorate of Customs, during the first six months of this year, 211 rice exporters exported 3.9 million tons of rice. Of these, 50 exported over 10,000 tons and accounted for 90 percent of rice exports whereas 99 exported less than 100 tons of rice. There were also those companies that export only 200-300 tons.
Bay believes that once Decree 109 on rice exports is made effective, many export firms in the country will not be allowed to continue export of rice.
Under the decree, local rice exporters have to meet certain requirements before being allowed to export rice.
For instance, they must have storage facilities for at least 5,000 tons of rice and their rice milling plants must be able to process a minimum of 10 tons per hour. Exporters failing to send out shipments for 10 consecutive months will have their license revoked.
Bay said the new regulations would weed out many rice exporters who only want quick cash and are causing unfair competition by undercutting other exporters. However, it will also make it more difficult for many exporters, causing delays in rice exports and affecting rice prices in the domestic market.
The Ministry of Industry and Trade has sent its suggestions to the Ministry of Agriculture and Rural Development to consider changing some requirements in the decree to help rice exporters with more time to prepare for storage and meet orders.

According to VFA, a total of 80 rice export companies are sufficient to ensure and meet the rice export quota.