The HCMC-based Asia Commercial Bank (ACB) has been presented with the "Best Bank in Viet Nam 2008" award by Euromoney, a world leading financial magazine.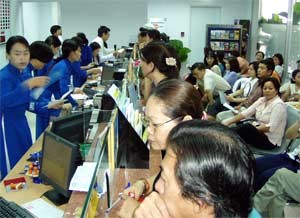 ACB's offices are often crowded with customers as seen in the photo (Photo: Tuong Thuy)
ACB chief executive officer Ly Xuan Hai received the award at a ceremony Euromoney held in Hong Kong on July 17.
This is the third time this major non-state bank has received the "Best Bank in Viet Nam" title from Euromoney after the two previous times in 1997 and 2006. This has further strengthened prestige of the bank.
Last year, ACB attained an after-tax profit of VND1.76 trillion (about US$110 million), a triple year-on-year increase, and VND510 billion in the first quarter of this year (this figure not yet audited).
This May, the London-based Standard Chartered Bank increased its stake in ACB to 15 percent, and raised its holdings in ACB's outstanding convertible bonds from 8.76 percent to 15.86 percent. At this time, Ray Ferguson, regional CEO of Standard Chartered, said his bank was impressed with the Vietnamese bank's growth over the past three years, a rate far higher than the industry average in the nation.
Standard Chartered has been a shareholder and strategic partner of ACB since July 2005.