Up to 60 per cent of more than 500,000 enterprises in Viet Nam do not use business development services, said Phạm Thi Thu Hang, general secretary of the Việt Nam Chamber of Commerce and Industry (VCCI).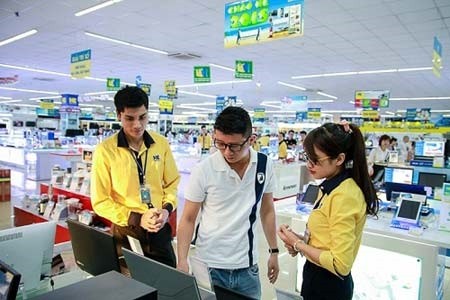 Companies in the service sector employ about 17.1 million workers, or 32 per cent of the total workers in the country. — Photo vietnamnet.vn
Hang told a business forum in Hà Nội yesterday, that this occurred despite a rapidly growing number of business development service (BDS) providers in Việt Nam.
A VCCI report said the number of companies dealing in services increased from roughly 94,000 to more than 300,000 during 2007-15 period, now accounting for nearly 70 per cent of all firms operating in the country.
Companies in the service sector employ about 17.1 million workers, or 32 per cent of the total workers in the country.
BDS are widely known as non-financial services that help businesses enhance operational efficiency, expand markets and improve competitiveness.
For example, an "enterprise nursery garden" in the southern Sóc Trăng Province provides consulting services related to corporate management, accounting, competitor definition and supplier networking.
The "garden" says on its website, vuonuomdoanhnghiep.soctrangsme.vn, that BDS is particularly important for small- and medium-sized enterprises (SMEs). Such firms may use the BDS to save their resources for production and business activities, as competition is getting stiffer in the face of deepening global economic integration.
Lương Minh Huân from the Institute for Enterprise Research and Development told enternews.vn that BDS is now as important as services such as finance, insurance, telecommunications, transportation and logistics.
He said that imports and exports are likely to see increasing technical barriers as tariffs decline following Việt Nam's entrance into a variety of free trade agreements. Without the proper services, it will be hard for local enterprises to pass foreign barriers.
Yet limited awareness among domestic companies about such important services is a challenge for the development of BDS, heard yesterday's meeting.
Hằng said a lot of firms do not know about the services, while many others know, but do not use them. She attributed the lack of interest to the poor quality of these services.
Hồ Sỹ Hùng, director of the Ministry of Planning and Investment's Enterprise Development Department, cited a recent survey of 156 technology management service providers, showing that 57 per cent of them are State-run companies with inflexible and unattractive services.
Most local businesses are SMEs and may not be able to afford the services, he said.
Hằng and Hùng agreed that BDS providers must improve the quality of their services to attract more customers. "The Government should be a 'catalyst' for the market to operate, instead of directly providing the services," said Hùng.
Yesterday, the VCCI also launched the Việt Nam Annual Business Report 2015, the 10th publication in this series. The report said that the domestic business environment, though significantly improved, required more appropriate measures to support business development.
"Inherent problems of enterprises are yet to be solved," VCCI Chairman, Vũ Tiến Lộc said, pointing out issues such as low labour productivity, inefficient capital use, outdated technology and the shortage of companies large enough for integration.