After the Wonderbuy Electronics Center went bankrupt, other electronic centers and retailers have stepped up promotional campaigns, but consumer confidence continues to decline.
Loss of Trust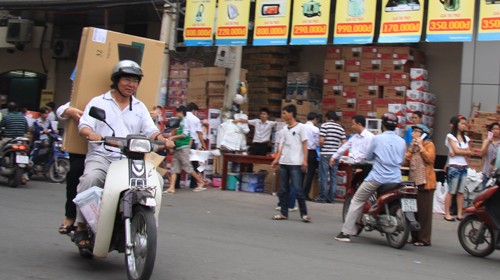 Today customers are cautious of promotions at electronic centers (Photo: Tuoi tre)
Many participants of the 'Purchasing in an American way' program, started at the beginning of 2011, have contacted Wonderbuy on Tran Cao Van Street in District 1 in the past few days to recover their promotional rewards. There is a fear and a possibility that all promotional rewards may also sink as a result of the company's bankruptcy.
Mr. C., a promotional reward earner, said he decided to buy an LCD worth nearly VND30,000,000 (approx.USD1,460) only because of the promotional offer attached to it, of 70 per cent money-back into his savings account after 3 years, which seemed at that time a great bargain.
When he heard about the situation at Wonderbuy, he immediately took his contract papers to his bank to check on the status of the offer but was told the account was valid only if the company was still in business. Logically he is right to demand and claim his offer but with such a flexibility clause in payment it will be impossible for him to claim the reward.
According to a director of a small electronic center in Go Vap District, there seems to be a shift in consumer confidence as a result of the Wonderbuy situation and now people prefer to buy direct merchandise than participate in promotional campaigns.
Customer Care Services
The electronics market is facing difficulties this year, from a diminishing purchasing power to high overheads, making investments in this business a high risk.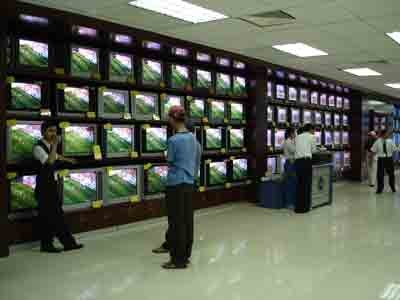 Fewer customers visit electronic shops (Photo: Thanh Tam)
According to Dinh Anh Huan, general director of the electronics and household appliances chain store dienmay.com, since the end of the first quarter of 2011, purchasing power has dropped significantly. Even during these hot summer months, sales are lower by 50 percent than the same period last year.
Presently supply exceeds demand, competition amongst retailers, even the established ones, is quite fierce. The Wonderbuy incident has made all distributors reconsider their business strategies.
The gioididong.com stores will soon launch their Customer Relationship plan whereby they will strictly control information of customer promotion rewards as well as solve customer grievances.
The Nguyen Kim electronics center which has nearly 1 million loyal customers has just announced its customer care service which will comply with international standards. Even Thien Hoa, an electronics center famous for cheaper products, also plans an after-sales and customer care service.