Since the beginning of September, electrical machine supermarkets in Ho Chi Minh City have been successful in attracting customers through several promotional programs such as selling goods at discount prices (up to 49% or 50% off) in a short limit time, giving presents or coupons to the buyers.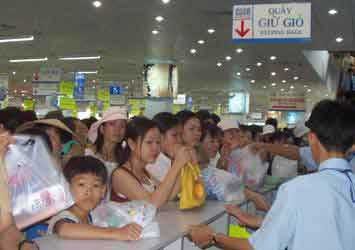 Buying goods at Co-opMart Supermarket
According to the employees of Cho Lon Electrical Machine Supermarkets, many items like cooking appliances and electric stoves were sold out before the promotional time. 
 
Therefore, to find necessary goods at the cheapest price this September (the promotional month) customers have to hang out at the supermarkets to update the prices and the times of discount. 
 
However, to give more chances to the customers, some supermarkets will increase the promotional time. 
 
This year's promotional campaigns have been organized in order thanks to the supervision of Trade Department and the Department of Tourism. 
 
To guarantee the customers' benefit, conditions of goods have been clearly reported on labels to make it easier for them to choose.
 
On this year's program, the companies have invested much more money than last year's.
 
These annual promotional activities gradually formed a habit of trading with customers and companies and September is considered the best time of year for buying and selling goods.