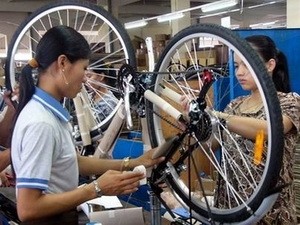 Workers assemble bicycles in Vietnam (File photo: Vietnam News Agency)
That the EC may review and extend anti-dumping duty on imported made-in-Vietnam bicycles worries not only Vietnamese bike makers but also Vietnam's investors and partners in the field.
Deputy Head of the Ministry of Industry and Trade's Competition Management Department Vu Ba Phu made the comment at a press briefing in Hanoi on May 28.
Phu said according the EC's decision issued in July, 2005, its anti-dumping duty of 34 percent against imported bikes made in Vietnam will expire on July 15, 2010.
However, the EC may review this duty at the request of the European Bicycle Manufacturers' Association (EBMA) which seeks the extension of the anti-dumping duties on Vietnam and China-made bikes for another five years.
According to Phu, if the EBMA's request is rejected, the anti-dumping duty on Vietnamese bikes will end on July 15. Otherwise, the EC will undertake a review in 12 months during which the current anti-dumping duty will still be in place until the EU releases results of its review.
Assessing the Vietnam bike industry's performance during five years of anti-dumping duty imposition, Phu said the duty has impacted "heavily and negatively" many businesses, pushing them into bankruptcy or change their business line.
For the past five years, exports of made-in-Vietnam bikes to the EU dropped sharply, from 1 million units in 2005 to 21,400 units in 2009.
In 2007 and 2008, Vietnam's bikes accounted for only 0.61 percent and 0.4 percent, respectively, of the EU's total bike imports.
Vietnam's bike export revenue from the EU went down continuously, plunging 95.3 percent in 2007 against the figure in 2006.
The EC's imposition of anti-dumping duty has also forced Vietnamese bike manufacturers to cut their employment to 5,000 workers this year from 210,000 in 2005.
Noting that Vietnam's bike export to the EU was small and unable "to affect the European bike industry", Phu stressed that any duty extension would be "inappropriate to the growing bilateral trade and economic ties between Vietnam and the EC, especially in the context that Vietnam is sparing no effort to create a more favorable environment for foreign investors, including the European ones."
Recently, the Ministry of Trade and Industry sent a diplomatic note to the EC Directorate General for Trade to analyze the current situation and related developments as well as the impacts of anti-dumping duty imposition on Vietnam's bike industry.