Total foreign direct investment commitment for Viet Nam over the last eight months of the year reached US$8.3 billion, a 40 percent increase over the same period last year.
Foreign experts said the figure is large thanks to the country's joining the World Trade Organization (WTO) in January 2007, after 11 years of negotiations.
Investors' confidence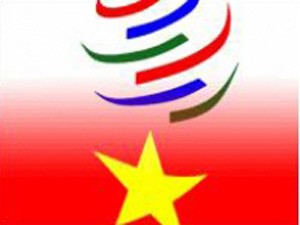 Viet Nam's WTO membership fosters its image
Total FDI pouring into Viet Nam this year may be larger than expected as there are 50 more foreign-invested projects waiting to be ratified with a combined capital reaching over US$50 billion, including a Taiwanese-invested project worth US$5 billion  to build high-tech electronics manufacturing complexes in northern Bac Ninh and Bac Giang provinces.
"WTO accession has helped a lot, not necessarily because of specific commitments therein, but more because investors took Viet Nam's accession as a sign of its commitment to be a fair global player," said Houng Lee, International Monetary Fund (IMF) Chief Representative in Viet Nam.
The Vietnamese Government has amassed sufficient credibility to attract investors, Lee said, adding that going forward, it will be important to maintain the current positive sentiments among global investors. To do that, he said, the government needs to ensure transparency and simplicity in the regulatory frameworks and uphold property rights, along with the more generic conditions of continuously upgrading infrastructure, reducing transportation and communication costs, as well as enlarging the pool of highly-skilled workers.
The Southeast Asian nation is no longer a global outcast among international investors, who are increasingly encouraged by robust growth rates and strong foundations for development, which Lee said include "the ample labor force, stable political and social environment and a very dedicated and committed government."
Joining the global finance playground
Viet Nam's stock market started in July 2000 with just two listed companies and a total value of VND270 billion  (roughly US$16.8 million). But by the end of June 2007, Viet Nam 's total value of listed shares stood at some US$20 billion, representing around 31 percent of the GDP, with bonds accounting for 8 percent of total GDP.
Estimates by the Ha Noi-based Indochina Capital Group suggest that the trading volume by foreign investors in last July averaged accounts for 60 percent of the total volume of shares traded in entire whole market.
"There's been a complete change in attitude towards Viet Nam,'' said Indochina Capital chief executive Peter Ryder, adding that the country has now become a "global darling".
Viet Nam is set to embark in a US$1 billion sovereign bond issue this month to raise funds for some key oil refineries, power, and cargo ship projects after raising US$750 million in an offering where demand easily outstripped supply.
Karl D. John, Chief Executive Officer of TCK, a Viet Nam-based investment consulting group, saw the move as "a very good barometer as to how Viet Nam has adopted to a more market oriented economy", and this "provides Viet Nam with great international exposure and credibility in the wider financial and commercial community".
"Viet Nam has entered the global market rather late, however, progress has been remarkable and argues well for future progress," IMF Chief Representative Lee said.