Tugboat companies in the southern beach town Vung Tau are facing a hard time as the town port authorities have imposed harsh requirements beyond their capacity, allegedly in favor of two family firms.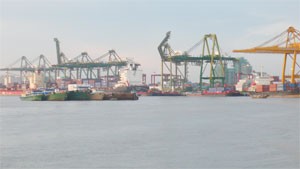 Container boats at a port in Vung Tau. Some container boat owners say now they have to choose towing service from the firms favored by local port authorities (Photo: Phan Hien)
According to an investigation by Saigon Tiep Thi, Bien Xanh Transport JSC and Vung Tau Towing Company, Ltd., known briefly as VTT, are the only two local firms in the field received exceptions.
The firms are owned by relatives of Le Van Chien, director of Vung Tau Port Authority and Vu Van Khuong, deputy head of the Port Authority's maritime inspection department.
Vung Tau Port Authority in April restricted the business of other towing firms by banning boats longer than 300 meters from entering local ports, in order to create more chances for VTT and Bien Xanh.
The regulation caused a lot of difficulties to the Japanese towing firm Mol, which has many customers that own boats 302 meters long.
Many other towing firms in Vung Tau have also been staying idle most of the times following the authority's regulations, including SP – PSA, a joint venture between Saigon Port and a Singapore firm that owns a fleet of modern tugboats worth nearly US$4 million each.
Although Vung Tau has around 20 ports with 12 boats coming and leaving every day, SP-PSA boats have been left wasted or used for much less work than they were invested for.
SP – PSA only had chances to tow two boats a week recently, which means the company has lost around $5,000 a day.
The same situation happened to Hai Van Transport Company, Ltd., which has sent two of its five tugboats from Vung Tau back to Ho Chi Minh City as there's no jobs for all of them.
The company borrowed bank loans to invest around VND60 billion in the tugboats and the joblessness has left it with around a billion dong of interest every month.
TCTS, a joint venture between Hai Van, Saigon Tan Cang Corporation and Mol, now can only work on its port Tan Cang – Cai Mep.
SP – PSA has sent a letter to container boat owners saying about the low capacity of VTT tugboats, citing an evidence that a big container boat on May 25 could not leave a local port when hiring towers from VTT.
The container boat had to wait for another day and the delay caused big loss to the boat owner, the letter said.
However, a boat owner who didn't want to be named, said that if they do not hire VTT tugboats, "we'd get a lot of trouble."
"Knowing that VTT is not as capable as some other towing firms but we boat owners still have to work with it."
In late July, container boat Hao Heng 8 of 18,100 DWT from Panama refused to hire VTT's tower as the company asked for $10,000 while the market price was between $1,000 and $1,300.
After that the boat was asked to stay at a local port for further repair although its technicians have assured that it could totally leave after damage from an earlier accident was already fixed.
With intervention from Vietnam Port Authority, Hao Heng 8 could only leave one day later, after paying nearly $17,000 to the port.
Another regulation by the authority asks towing firms to use at least two towers equipped with Azimuth propellers to tow a boat heavier than 80,000 DWT.
But on March 10, VTT towed the Liberian boat Hanzin Germany of nearly 123,000 DWT to Cai Mep Thuong container port, using three towers including only one equipped with Azimuth propeller, and received no red light from the authority.
However, Vung Tau Port Authority officials have denied having intention to sabotage other towing firms in favor of Bien Xanh or VTT.
Chien, the authority director, said the firms are owned by his relatives but they would also be punished like any other firms if they violate the regulations.
He said he didn't know about the case about the 123,000 DWT Liberian boat.
The director said he would learn from the experience.