Steel sheet industry has recently been threatened by cheap imported products, especially from China, which continue to flood in Vietnam. Earlier, imported steel ingots and steel rods overshadowed domestically-made ones that forced local authorities to take protective measures to save domestic steel industry.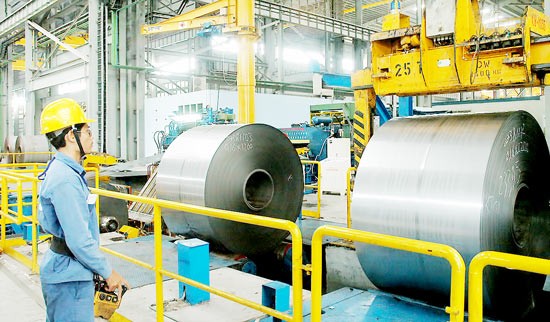 Vietnam's steel sheet industry faces cutthroat competition from imported steel products. (Photo: SGGP)
Figures by the Vietnam Steel Association say that in 2015 the country imported up to 19.83 million tons of steel products and semi-finished steel products, of which 9.6 million tons of steel products were imported from China with Chinese-made plated steel sheets alone, accounting for 90 percent. Currently, Chinese steel sheets have accounted for more than 40 percent of market share.
Besides the increasing volume of imported products which gradually dominate local market, domestic steel producers also concern that with cheap and low-quality imported steel sheets flooding the market, domestic steel businesses will face difficulties.
In fact, the country's total steel sheet consumption was around 2.6 million tons in 2015, down about 20 percent or 520,000 tons compared to the previous year. With an average price of VND18 million per ton, local steel producers lost more than VND9.3 trillion.
 
Noticeably, Chinese-made steel sheets are cheap mostly because they have low-quality. Many products show signs of trade fraud. For instance, color coated steel roofing sheets of high quality will have several coatings but the number of coatings on Chinese-made ones is all cut in order to reduce cost price which greatly affects the durability of the steel roofing sheet.
Normally, high-quality steel roofing sheets have a 10-year warranty while low quality ones have to be repaired or replaced after 5-7 years, according to Mrs. Pham Thi Thu, owner of Son Tung Building Materials Store in Highway 1A in Binh Tan District.
In addition, Chinese steel producers also cheat consumers by reducing the thickness of the steel sheets. A steel sheet was labeled with a thickness of 0.35 millimeter in description but its actual thickness is 0.28 millimeters. As if, consumers have been pickpocketed a large amount of money. 
As for steel roofing sheets, consumers tend to choose less expensive products, causing locally-made products to be unsalable. Therefore, domestic steel producers should have suitable advertising campaigns to help consumers to understand more about made-in-Vietnam steel products.
Moreover, they should upgrade their equipment and technology to improve competitiveness of their products in local and international markets. The Government should keep close watch on steel producers and punish severely dishonest ones. In long term, a technical barrier should be promulgated to prevent low quality steel products from entering the country. At the same time, steel producers and authorities should have the same awareness about protecting domestic market and gaining foothold in domestic market then entering international market.
 
Mr. Nguyen Van Sua, vice chairman of VSA, said that amid economic integration, imported products will be greater day by day. Thus, if domestic steel producers fail to find an appropriate way, they have to halt operation or suffer high steel inventory will be more serious.
Steel sheet industry is not only one of the most competitive sections in the country's steel industry, but also has good export potential. When joining Trans-Pacific Partnership, the country's steel sheet industry will have access to promising and demanding markets like the US and Canada. However, to achieve that goal, Vietnamese steel producers must improve their products, build brand names, offer reasonable prices, and raise their knowledge of the market, added Mr. Sua.
 
Vietnamese steel producers not only have to deal with the dominance of cheap imported steel products in domestic market, they also have to face strict technical barriers in exporting. Particularly, Indonesia imposed an anti-dumping tax on imports of Vietnamese cold rolled steel sheets from July 2014 to July 2017.
According to Hoa Sen Group, a leading company in steel industry in Vietnam, the safeguard tariffs remained high at US$430 per ton in 2014 which is equal to 50 percent of export price, $371 per ton in 2015 or 46 percent of export price, and $312 per ton in 2016 or 41 percent of export price.