Figures from the Ministry of Finance show the public debt exceeded US$32.5 billion last year, amounting to 42.2 percent of the country's GDP (gross domestic product).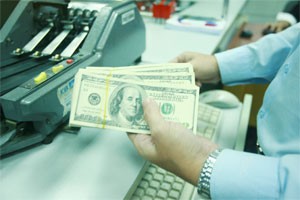 The country's ratio of foreign debt to the total export turnover is still low thanks to a booming export (Photo: Minh Tri)
The figure is the highest foreign debt ratio since 2006, according to statistics from the ministry.
 
It is also much higher than the 38.8 percent rate predicted by the government in late 2010.
 
A total of $1.67 billion from the state budget was spent last year to pay some of the loans, plus the interest, the report said.
 
The ministry also warned that Vietnam's foreign reserves in 2010 equaled 187 percent of short-term loans, compared to 290 percent in 2009, and 2,808 percent in 2008.
Yet Dr. Le Xuan Nghia, vice chairman of the National Financial Supervisory Commission, says that the debt remains under control as there is no bad debt.
"Vietnam's public debt, however, is increasing sharply. Foreign debt last year rose by nearly 30 percent to $1.6 billion," Nghia says in an interview with Dau Tu Tai Chinh Newspaper.
"The foreign debt makes out 59 percent of the government's debt. ODA (Official Development Assistance) is 85 percent of the foreign debt, boosting input costs of the loans.
"An increasing public debt is also widening the government's budget deficit, which soared to 9 percent of GDP in 2009 from 3 percent in 2001."
Nghia warns that the high debt rate can move up further on banks' low liquidity, which is caused by "property bubble" and high bad debt rate of lenders.
Vietnam is borrowing more than half of the loans at annual interest rates of 1-2.99 percent. Yet loans of 6-10 percent rates had already reached $1.89 billion in 2010, double the high-rate loan value in 2009.
"The government should design a strategy for curbing public spending and budget deficit in order to reduce foreign debts," says Nghia.
The country's ratio of foreign debt to the total export turnover is still low thanks to a booming export, he adds.
"Therefore, to sharply reduce the foreign debt, we should boost export and strictly limit import. We can earn more from exporting by focusing on selling hi-tech products and technologies," Nghia says.
He also proposes that the government should raise the foreign currency reserve to cope with the fluctuation of capital flows.
"The public spending was reduced by over VND8 trillion ($400 million) compared to last year's figure and by VND80 trillion compared to the targeted amount," Nghia says.
"Of the amount, public spending of the state-owned enterprises and the government bonds have been cut back by VND39 trillion and VND40 trillion, according to a report of state-own enterprises."