Viet Nam has plenty of iron ore in the ground so the domestic steel industry should have grown in a major way over the years yet the country still needs to import 70 percent of the steel ingots it needs.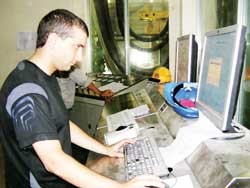 An expert works in a steel factory of Thep Viet Company
Early this year, a flood of cheap steel from China forced Vietnamese producers to lower their prices to survive. But then in June the import price reversed course and rose rapidly to its highest level ever, the Viet Nam Iron and Steel Association said.
 
The volatile situation sowed confusion in the minds of Vietnamese producers, who responded by becoming passive in their business dealings and subservient to the import price.
 
To overcome this problem, many of the nation's steel companies are investing heavily in modern technology for refining raw steel and fashioning it into final goods.
 
Joint-venture and all-foreign companies are in on the act too and are sinking billions of dollars into steel production in Viet Nam.
 
Mr. Pham Chi Cuong, chairman of the Viet Nam Iron and Steel Association, said that the major investment by some of the world's biggest steel firms proved just how attractive a post-WTO Viet Nam was as a place to invest.
 
According to Mr. Cuong, many Vietnamese companies previously made only structural steel and ignored raw steel production, leading to a shortage of materials for their factories.
 
To meet half of the country's needs, it will need to produce about two million tons of steel ingots this year, Mr. Cuong added. 
 
He suggested that, before undertaking any major steel project, the central planners should ascertain Viet Nam's exact needs and adjust their plans accordingly.