The bilateral trade turnover between Vietnam and ASEAN has highly grown for recent years, increasing 13 times from US$3.3 billion in 1995 to $42.1 billion in 2015, reported the General Customs Department.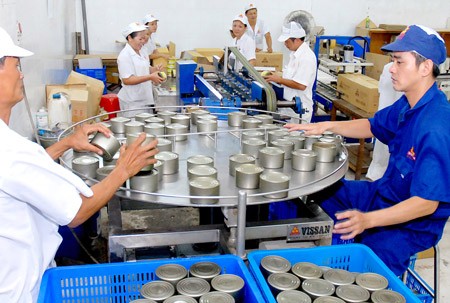 Workers at Vissan company produce canned food for export to Cambodia (Photo: SGGP)
The turnover is forecast to further increase this year. ASEAN is now one of the most important trade partners of Vietnam.
The bloc is among the three largest export markets of Vietnam after the US and EU, maintaining high growth rate.
Many Vietnamese brand names have become familiar in ASEAN nations such as Thien Long pen and Cholimex chili sauce.
The two sides' turnover increase has been thanks to tariff barrier removal, facilitating goods and services' circulation in the region.
Cambodia and Myanmar have imposed 0 percent tax rate on fertilizers imported to the countries. Cambodia has been the largest fertilizer importer of Vietnam with over 300,000 tons a year.