The General Secretary of the Communist Party of Vietnam Nguyen Phu Trong affirmed that Vietnam will continue to create favourable conditions for foreign investors, including those from the Republic of Korea (RoK), to run their operations in Vietnam smoothly.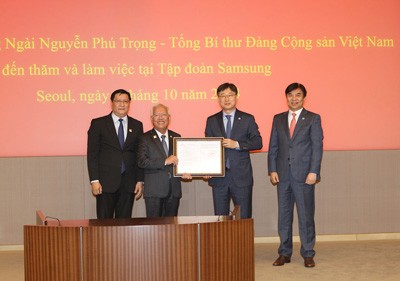 At the ceremony (Source: VNA)
The Party chief made this remark in Seoul on October 1 during a ceremony to grant the Samsung Group its investment licence to build a US$1.4 billion electronics production factory in Ho Chi Minh City's Saigon Hi-Tech Park, which is scheduled to become operational by 2016.
He said that due to the political determination of the two countries and the support of their peoples and business communities, bilateral cooperation between Vietnam and the RoK had grown in all fields.
Praising the efficiency of Samsung's operations in Vietnam, he said he hoped the Samsung Group would continue to expand its investments in Vietnam into new areas for mutual benefit.
Samsung representatives thanked the Vietnamese side for its support, which enabled the group to implement its projects in the host country in an effective manner.
On the same day, the Party leader also met with the heads of the RoK's Keangnam Group, praising their contributions to Vietnam's development with numerous large-scale projects.
He said Vietnam invited RoK businesses, Keangnam in particular, to make long-term investments in the country, especially in infrastructure, human resources, green growth, and support industries.
RoK businesses should regard Vietnam as a strategic investment destination, he stated.
Also on October 1, Party General Secretary Nguyen Phu Trong, who is on a four-day state visit to RoK, visited the Vietnamese Embassy in Seoul and met with members of the Vietnamese community.
Briefing them on socio-economic development, security-defence efforts, external relations and policy implementation in Vietnam, the Party chief said his visit aimed to boost the strategic partnership between Vietnam and the RoK.
He affirmed the Party and State's ongoing policy to consider Overseas Vietnamese a crucial part the nation, whilst facilitating conditions for them to integrate into the host society and promote the national cultural identity.
In recent years, the Vietnamese community in the RoK has increased considerably, with many Vietnamese migrant workers and students living in RoK, as well as inter-marriages between Vietnamese and Korean nationals, he noted.
On the same day, Party leader Nguyen Phu Trong and Deputy Prime Minister Hoang Trung Hai attended a ceremony to launch VietJet Air's flight routes between Vietnam and the RoK.
In addition to the two new routes connecting Seoul to Da Nang city and Hanoi, VietJet Air plans to open a Hanoi-Busan route in December this year and a Ho Chi Minh City-Busan route in 2015.