Vietnam has been ranked in the top five countries with largest outputs of rice and coffee, according to information from the Ministry of Industry and Trade.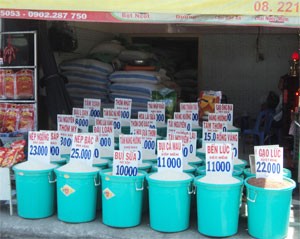 A rice shop in HCMC. Vietnam's rice output ranks fifth in the world this year (Photo: Minh Tri)
The rice output is ranked fifth after China, India, Indonesia and Bangladesh but its rice export stands second after Thailand.
The country's coffee output stands second after Brazil, yet it is the leading Robusta exporter in the world.
The ranking is about countries' outputs in nine major agricultural produces for human, including wheat flour, corn, peanut, tea, coffee, soyabeans, cotton and rubber.
Official estimations showed that rice exports from Vietnam will rise to a record seven million tons this year as higher prices set by Thailand's new government are pushing buyers toward Vietnam.
Last year, Vietnam exported 6.75 million tons of rice worth nearly $3 billion at an average price of $431 per ton.