Establishment of private economic groups is essential for the country's economic growth, said entrepreneurs at a seminar in Hanoi on March 19.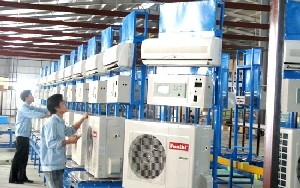 Funiki air conditioners manufactured by Hoa Phat Group, a leading Vietnamese manufacturing group based in Hanoi. A recent seminar said Vietnam needs guidelines to set up private economic groups
The seminar was jointly held by the Vietnam Young Entrepreneurs Association and the Ministry of Planning and Investment to collect opinions for the association to plan a project of setting up a model of private economic groups in Vietnam.
 
Entrepreneurs said investment in developing economic groups would create impetus for the country's economic development.
 
Therefore, the Government should set up a legal frame and polices to facilitate development of private economic groups, they said.
 
After over 20 years of implementing the renewal process, private sectors make up over 60 percent of the country's GDP, 25 percent or 8,000 of them are young enterprises, with some of them making profits of billions of US dollars a year.
 
A participant said private economic groups are usually established by merging or expanding enterprises in the US or European nations, and they all needed government guidelines to develop rapidly in line with the market law.
 
The ministry and the association are expected to report the Prime Minister about the model in June and debut the first Vietnamese private economic group in October.