Vietnam's export import turnover in 2016 reached US$349.16 billion, of which export posted a year on year increase of 8.6 percent to hit $175.9 billion, reported the Ministry of Industry and Trade.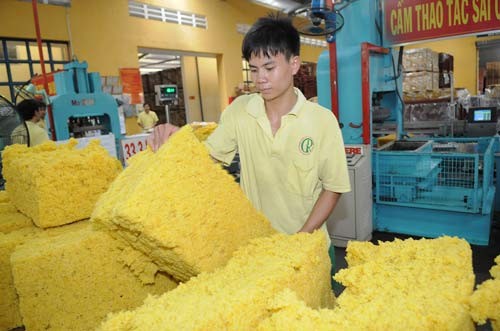 Rubber processing for export (Photo: SGGP)
According to Vietnam's export report 2016 which the ministry announced for the first time on Wednesday, the country had 25 export items with turnover topping $1 billion. The number was 23 items in 2015.

So far, the country has signed 10 free trade agreements (FTAs) and continued negotiating other FTAs with many important partners.

Vietnam has set up trade relations with 200 countries and territories comprising 70 markets bringing the country export value of over $100 million.

Vietnam-South Korea FTA has created Vietnam's export growth of 29 percent to hit $11.5 billion.
In 2016, import turnover increased 4.6 percent over 2015 to $173.26 billion. Main import items are materials for domestic production.

Vietnam continued maintaining the trade surplus of $2.68 billion, contributing to trade balance and monetary market stabilization.