Vietnam's GDP grew 3.9 percent in the first half over the last year period, the Ministry of Investment and Planning announced July 1.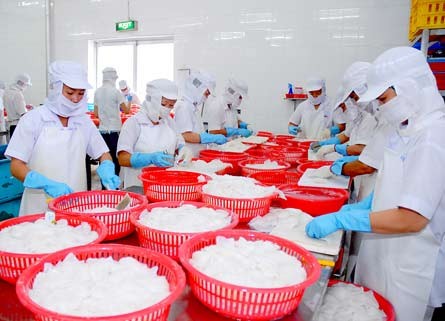 Workers at the Saigon Aquatic Products Trading Joint Stock Company process cuttlefish for export. The Vietnamese economy may have bottomed out and is moving upward again. (Photo: SGGP)
After growing at 3.1 percent in the first quarter, the lowest rate in recent years, GDP growth rose to 4.5 percent in the second.
The monthly average income of public employees went up by 12.1 percent in the first six months to VND2,795,800.
Since May 1, the minimum salary has increased from VND540,000 a month to 650,000.
The year-on-year inflation rate in the fist half was 10.27 percent.
Meanwhile, director of the Ho Chi Minh City Department of Labor, War Invalids and Social Welfare Le Thanh Tam said in the first half, 38,741 workers lost their jobs in the city.
Most of them were working in the garment and textile, footwear, electronic, wood processing, food processing, and consumer goods industries.
On the other hand, 533 businesses have been trying to recruit 61,527 unskilled workers but without success, mostly because of disagreement over salary, Mr Tam said.
In related news, top executives of two more foreign companies fled the country leaving behind debts, taking the number of such firms in HCMC so far to five. Four of them are Korean and the other Malaysian and the companies have all shut down as a result, leaving 1,246 workers in the lurch.
The companies owe the workers VND2.2 billion (US$129 million) in salaries. Vina Haeng Woon Co.,Ltd tops, with wages owed of VND1.3 billion, followed by Quang Sung Vina with VND553 million.
The companies also owe their customers and the social insurance agency another VND4.8 billion.