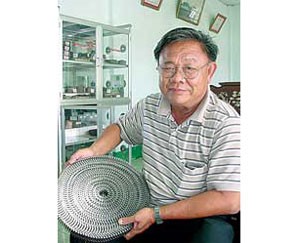 Mr. Lu Sung Hy and his roofing nails
The Can Tho-based Kim Xuan Co Ltd is expected to attain a turnover of US$4 million of roofing nails (for use in a nail-gun) export this year, said the company's director, Mr. Lu Sung Hy.
The director said the US market plans to import roughly 2,000 containers of nails a month while his company's production capacity is merely 50 containers a month. Thus, the US is a very potential market for Viet Nam's exporting roofing nails.
Mr. Hy also said the company is expected to export more containers of nails to the US market when Viet Nam entered the World Trade Organization, and to attain an export turnover of US$4 million this year.
In 2004, the company had attained an export turnover of US$2.8 million.
Established in 1999 in the Tra Noc Industrial Park in Can Tho city, the company's factory had an initial investment capital of only US$300,000 collecting from the Chinese community in the Mekong Delta city, according to Mr. Hy.
In 2000, the company exported only US$30,000 worth of goods; however, the number has increased more than ten times, reaching averagely US$300,000 and US$670,000 in 2001 and 2002 respectively.
Beside current five local partners and others in the US market, the company has also signed contracts with many Asian and European companies, leading the Tra Noc Industrial Pak's enterprises in exporting capacity after six years of operation.