Japan leads a corporate shift to Viet Nam in its hunt for lower cost labor, the UK "Times" reported on September 5.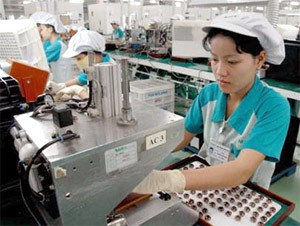 At Japan's Nidec factory in Ho Chi Minh City's Saigon Hi-tech Park
From high-tech consumer electronics and solar panels to bathroom tiles and tanker hulls, corporate Japan is leading an Asian manufacturing switch to Viet Nam, Eastern Europe and South America in its relentless hunt for lower labor costs, the newspaper said.
It is Japan to which the eyes of manufacturers around the world are now turned, the Times said, adding that towering over corporate Japan's recent strategic rethink is the economic rise of Viet Nam.
They began to invest heavily in Viet Nam after the SARS crisis of 2003, which, for a while, appeared to threaten the viability of Japanese factories in China. The military coup in Thailand last year has also forced the Japanese to reconsider projects there, the paper added.
According to the newspaper, Japanese chief executives, whose 2006 investments in Viet Nam were twice those of the previous year, at US$1.3 billion, believe that Viet Nam's work ethic is closer to Japan's, in terms of a strong belief in quality.