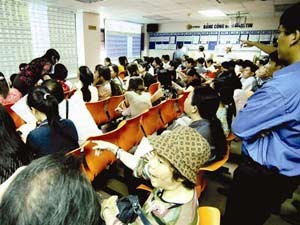 The boom of the securities market is a proof of the country's abundant economic internal force
Viet Nam's economy is forecast to enjoy many advantages and gain a robust growth rate, despite an expected slowdown of the world's economy and other market difficulties in 2007, said experts.
Sharing this forecast, Dr. Tran Dinh Thien, Deputy Director of the Viet Nam Economics Institute, said that Viet Nam, as being in the world's most dynamic region, would not fall into the general decline of the world's economy.
Compared to 2006, a lower world's economic growth rate would mean that there will not be much unexpected ups and downs in world's prices, particularly in material and energy prices.
In addition to that, Viet Nam's economy will benefit from its own advantages thanks to the country's accession to the World Trade Organisation (WTO), the US endorsement of the permanent normal trade relations (PNTR) with Viet Nam and the results gained in the APEC year 2006.
These factors, together with the achievements gained by the country in 2006, such as an economic growth rate of more than 8 percent, recorded foreign investment capital, official development assistance, and import-export turnover, are considered to be strong momentum bringing about growth opportunities for Viet Nam in 2007.
According to Mr. Thien, foreign investors would continue to pour their capital into Viet Nam since the country was regarded as the second fastest Asian growing economy. Viet Nam would also have chances to expand further to the world's biggest markets.
He said that the recent emergence of the private sector and the boom of the securities market was a proof of the country's abundant economic internal force.
However, economically speaking, Mr. Thien said that Viet Nam's current export staples are mainly based on available natural advantages and unskilled labourers. These advantages will not remain on the long-term, thus businesses should work hard to find future strategies which are more sustainable.
The economist also mentioned other factors that may affect the country in the long-term, which Viet Nam needs to overcome in 2007, such as infrastructure for development.