Looking back on ten years of protectionism, what has Viet Nam's auto industry gained and lost? Answer: Pretty well nothing.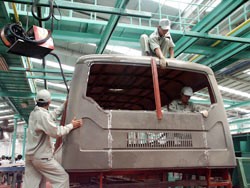 Workers in an automobile assembly factory in Thu Duc District, HCMC

Viet Nam imposes steep tariffs to protect its motor vehicle assemblers and particularly the joint ventures. While the tax on a complete automobile has fallen in ten-point steps from 100% to 70%, it is still high compared with the import duty on components and spare parts (20-22%).

The excuse is that a high tariff keeps out foreign vehicles and thereby protects Vietnamese companies.

That is why the joint ventures see no need to lower their prices. An imported car is extremely expensive, but that doesn't mean one put together here is therefore a bargain. A car assembled in Viet Nam costs 20-30% more than in nearby countries, and 50-60% more than in the USA or Europe.

Some analysts say that the joint ventures have thrived because of the protectionism.

On top of the steep import tax, a buyer pays a 50% tax on a purchase as the Finance Ministry views cars as luxury goods in Viet Nam.

To protect the immature local auto industry, the government has extended the period for gradually doing away with protectionism.

One problem is that the proportion of local content has barely reached 20%, even though local automakers have made a commitment to increase the ratio to between 30% and 40% after ten years.

If they want to cut their prices, Vietnamese carmakers have no choice but to reduce their production costs and use more Vietnamese-made components, something not so easy to do in a contracting market.

Professor Phan Dang Tuat of the Research Institute for Industrial Policy and Strategy says Vietnamese enterprises have taken advantage of the protection to raise their prices, sometimes to the level of imported cars.
Cars are still considered as luxury goods in Viet Nam
For example, with the present tariff policies, an imported car might retail for US$50,000 but no joint venture would consider selling the same model assembled here for even US$30,000. It's no surprise that the steep prices have resulted in low sales.

With many enterprises sheltering snugly behind sturdy tariff walls, the drive to incorporate more Vietnamese-made parts in their vehicles has petered out.

Another major concern is that every automaker in Viet Nam has gone it alone instead of forging alliances to improve its business prospects.

Professor Tuat says it's the biggest weakness of Viet Nam's auto industry. There are more than 30 auto assemblers already in existence and ten more on the way, and a coalition between them is needed urgently, in the good professor's opinion.

Looking at the overall situation, there is clearly a gap between Vietnamese automakers on the one hand and the 11 joint ventures and five newcomers that make up the Viet Nam Automobile Manufacturers' Association (Vama) on the other.

It's no accident that only the five strongest Vietnamese firms, whose number includes Samco, Truong Hai and Xuan Kien, have joined Vama. Yet even among the association's members there is little in the way of cooperation, say in technology sharing and such.

Many people reckon Chinese automobiles are taking over the local market. When the tariff barriers are removed, which won't be long in coming, auto prices will fall and cheap Chinese vehicles will come to dominate.

Now that Viet Nam has joined the WTO, quite a few Vietnamese companies could go to the wall, unable to face up to the foreign competition and the tough demands of the global market.

As the economy integrates into the world, there will be more acquisition and mergers of Vietnamese enterprises. Weak companies have to think about the situation and act now or they will go bankrupt.