Viet Nam is set to export 4 to 4.5 million tons of rice in 2007, said Prime Minister Nguyen Tan Dung in an instruction to ministry officials and industry agencies regarding the management of rice exports this year.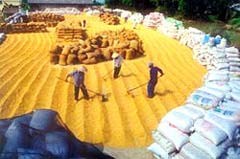 Viet Nam plans to export 4 to 4.5 tons of rice in 2007

The PM has asked the Ministry of Trade and the panel of rice export management to directly manage rice export volumes in each quarter by conducting transactions, overseeing the signing of contracts and administering deliveries to bigger client states like the Philippines, Indonesia, Cuba, Malaysia and Japan.

He added that exporters should adjust rice prices in compliance with those set by the Viet Nam Food Association (VFA), and discuss deliveries for bigger clients with VFA members.

In the event the domestic price of rice changes, the Ministry of Trade should promptly settle potential issues or propose measures to the PM to deal with the situation.