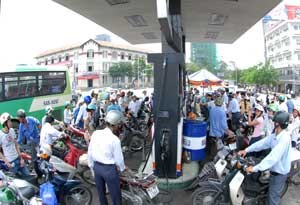 A fuel station in HCMC crowded with buyers on Monday morning (Photo: SGGP)
Viet Nam increased retail gasoline prices on Monday to bring them closer to international levels, and reduce state fuel subsidies.
The Ministry of Finance announced the decision on the Monday morning. Starting at 10 am, the price of the A92 gasoline increased to VND19,000 per liter from VND14,500 dong, that of kerosene rose to VND20,000 from VND13,900, and diesel fuel increased to VND15,950 from VND13,950.
Despite of the latest fuel hike, the gasoline price in Viet Nam is still lower than in such regional countries as Thailand (where the price is equal to VND20,220 per liter), Cambodia (VND23,253), Laos (VND19,040) and Singapore (VND27,129).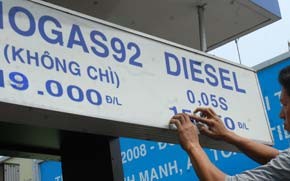 A staff at a filling station in HCMC changes fuel prices on Monday morning (Photo: SGGP)
On the Monday morning in HCMC, many people flocked to fuel stations before 10 am to buy gasoline at a lower price. Many complained about this fuel price, and a city dweller said she would shift from her scooter to an electricity-powered bicycle this week.
Meanwhile, some chaos took place at petrol stations in Da Nang City on the central coast because so many people came to buy gasoline. Many filling stations sold fuel to those with vehicles, not to those who came with containers.
Filling stations in the Mekong Delta city of Can Tho were also crowded with buyers before 10 am.