The Vietnam Food Association has announced that no more new contracts for exporting rice will be signed until the end of June and that total exports will not be more than 3.5-4 million tons this year. Why is the export being capped? And will it affect farmers? Tuoi Tre newspaper spoke to the association's chairman, Truong Thanh Phong, to find out.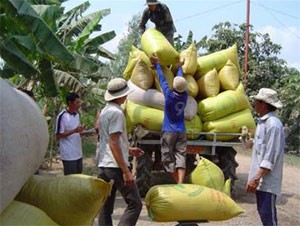 Rice harvested in Dong Thap Province, Mekong Delta
Does the restriction on rice exports affect farmers?
I promise global rice prices will be high, not only this year but also in the next few years. Therefore, exporters and farmers don't have to worry. The later we export rice, the higher prices will go.  
Also, farmers won't be affected since they have finished harvesting the winter-spring crop and most have sold their paddy at a rather high price of VND4,200-4,300 per kilogram. 
The price of rice has been rising since. It went up by VND300-400 per kilogram in just the last two days to VND6,100-6,200.  
Some are worried that the increasing farming costs will mean farmers will make losses if the price does not increase. In reality, the farming cost has only increased [slightly] while the price has increased much more, and farmers have enjoyed a double profit. 
Why has Viet Nam halted rice exports while global prices are soaring?
Enterprises have signed contracts to export 1.8 million tons of rice since the beginning of this year, of which 800,000 tons have been exported and the remaining will be delivered in two months. There is not much rice left from the winter-spring crop.  
More exports will cause an increase in domestic prices. Global prices have surged to VND6,100-6,200 per kilogram from VND5,600-5,700 in mid-March. The price hike is not good if it leads to speculation.  
The recent sharp hike in food prices has squeezed people. Therefore, the stabilization of food prices is aimed at curbing inflation. 
Many farms in the north have been affected by the recent cold snaps, and the Mekong Delta area too is unsure of a plentiful summer-autumn crop because of bad weather.  
In order to ensure food security, the government has ordered to cap exports at about 3.5-4 million tons this year. 
The government will increase the volume of exports at the year-end if the winter-spring crop in the north and the summer-autumn crop in the south yield bumper harvests.